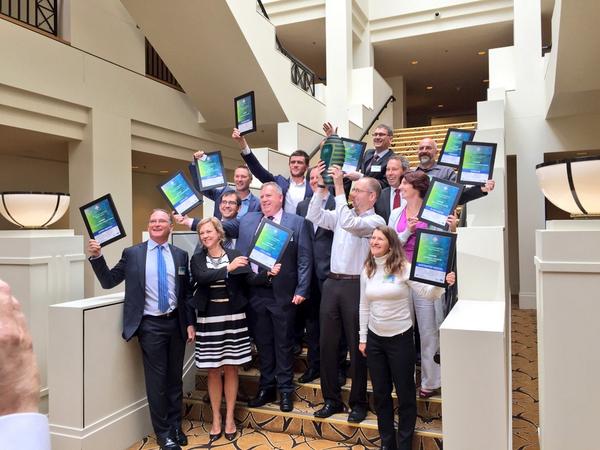 Data centre manufacturer, Datapod, has won the 2014 ACT Chief Minister's Export Award in the Manufacturing category.
The ACT Deputy Chief Minister Mr Andrew Barr MLC presented Datapod with the award at today's annual award ceremony at the Hyatt Hotel in Canberra.
The ACT Chief Minister's Export Awards are the Territory and region's most prestigious awards for exporters and it is the second time the modular data centre manufacturer has been a winner at the awards after winning the Small to Medium Manufacturing Award Category in 2012.
Datapod Director and Chief Architect Scott Carr is honoured by the announcement.
Mr Carr says, "It is a huge honour for Datapod to be announced as a winner in the Chief Minister's Export awards. Canberra and the surrounding region has, for a long time, been a hotbed for innovation in Australia and to be mentioned in the same breath as those at today's presentation is a privilege and to win is an absolute honour."
The Datapod System is a set of pre-manufactured infrastructure modules that combine to create a complete end-to-end data centre facility – at a fraction of the cost and in a fraction of the time that it would normally take to construct such a facility.
This pre-manufactured approach Datapod has been recognised domestically with an Australian Design Award and internationally with increasing exports to Asia, Europe and North America.
Category winners in the ACT Chief Minister's Export Awards (except for the ACT Exporting Government Solutions; Exporting to Asia and ACT Emerging Exporter Categories) go on to compete as finalists in the 2014 Australian Export Awards which will be held in Sydney on 27 November 2014.
For more information about Datapod and the modular data centre approach.