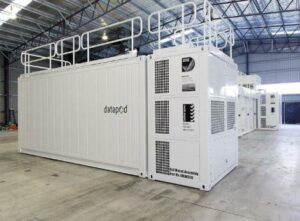 Datapod USA is proud to team with North American partner Universal Networking Services (UNS) to deliver the Datapod data center System for the Washington Suburban Sanitary Commission (WSSC).
Earlier this year, WSSC named Datapod USA as the successful tenderer to build and deploy their new data center facility on the outskirts of Washington DC.
The WSSC project requires Datapod USA to provide a 200kW data center System that can be scaled up to and beyond 1 MW over time.
The modular Datapod System represents a new approach to providing data center infrastructure allowing extra pods to be added to the data center as future capacity is required.
Datapod USA CEO Adam Smith is delighted with the partnership with UNS.
"This is an exciting opportunity for Datapod and we are very proud to be providing data center infrastructure for one of the United States largest utilities with our valued North American Partners UNS. Leveraging from the experience and knowledge of UNS will add to the success of this project," said Mr Smith.
The 200kW data center solution equates to a four pod modular system and will be ready for operation months earlier, when compared to a traditional custom-built approach to data center construction.
The Datapod System will enable WSSC to fully manage its own asset and to provide supporting infrastructure such as power, cooling and fire suppression. The Datapod System also provides electrical power feeds, uninterruptible power supply and generator backup.
"From inside, the Datapod System looks like most enterprise grade data centers featuring optimized racks and hot aisle configurations. The Datapod System also features a patented design that provides us with a strategic advantage," added Mr Smith.
The tender process attracted bids from several international companies, with Datapod's technical superiority, experience, speed to deployment, and completeness of the end to end solution leading to the tender win.
WSSC provides water and waste water services to approximately 1.8 million residents around Washington DC and their new Datapod facility is tipped to become an industry leader and will create new opportunities for the organisation by extending WSSC's position as an advanced user of IT systems.