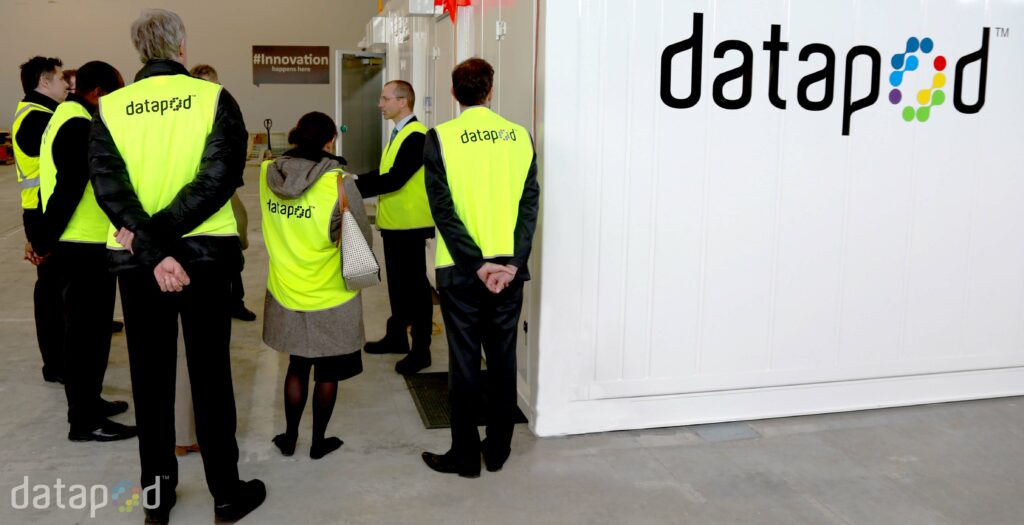 In this blog post we take a look at some of the most frequently asked questions about Datapod's modular data center system.
Pictured Right: Datapod Director Adam Smith fields some frequently asked questions at a recent Datapod Factory Tour.
WHO IS DATAPOD?
Datapod is a multinational award-winning data center engineering firm focused on innovation in the global market. 
Formed in 2007, Datapod addresses the needs of organisations wanting to maintain sovereignty over their data centers assets and manage them in-house.
Datapod recognises the benefits of an end-to-end modular 'building-block' approach to data center infrastructure.
The Datapod System has been designed over several build-generations enabling customers to realise the benefits of standardisation, manufacturing efficiencies and reduced time to deployment.
WHAT MAKES THE DATAPOD SYSTEM UNIQUE AMONG MODULAR DATA CENTER MANUFACTURERS?
Datapod offer a complete site-infrastructure solution built from ISO-standardized building blocks, including all supporting systems such as power and cooling modules, and fire suppression.
The scalable design of the Datapod module is innovative.
By incorporating a unique removable side-wall, and designing a waterproof joining mechanism, multiple 'pods' can be bayed together.
Customers can create a data center as big or small as they wish, when they wish.
The flexibility of this system now enables customers to tie their data center investments exactly to the expected business ROI, by investing in new capacity only when they need it.
Conversely, when organisations need to reduce their capacity over time the Datapod System enables customers to scale down and as well as providing lease options.
Datapod has released a white paper Data Center 2.0 'The perfect Storm Has Arrived', click the button below to register and download your copy.

HOW LONG DOES IT TAKE TO BUY AND DEPLOY A DATAPOD DATA CENTER?
The Datapod System can be designed in minutes using the Datapod App.
The Datapod App will generate your configuration-specific purchase quote, and once ordered, the system can be built in 12-18 weeks. While installation on site can be complete within a few days.
Similarly, expansion of the system will take a similar time to complete.
WHERE CAN I INSTALL A MODULAR DATAPOD SYSTEM?
The Datapod System is designed for external deployment, but is equally at-home undercover or in a building or other urban location.
The site must be level, and capable of supporting the weight and point-load of the modular system.
Upon ordering a system, Datapod will attend site to conduct a site inspection and report on the suitability of the proposed site.
Remedial work may be recommended prior to the delivery of the Datapod System.
There are no climatic or environmental limitations to where a Datapod can be deployed, the Datapod System is lightning and cyclone proof and can operate in a wide variety of harsh climate zones.
CAN I EXTEND THE DATAPOD SYSTEM ONCE IT HAS BEEN INSTALLED?
Yes. By removing the side walls on the Starterpod and Expanderpods, additional Expanderpod(s) or an Endpod can be added.
During this process the system can remain operational – it is not necessary to shut down the Datapod System to expand.
HOW IS THE DATAPOD SYSTEM AN ENVIRONMENTALLY FRIENDLY DATA CENTER?
The Datapod System is designed within ISO-certified module dimensions for the purposes of tapping into the global freight and shipping industry, but that is where the similarities to the ubiquitous box end.  
The modular design and the use of the award-winning APC InrowTM cooling systems means the waste heat from the racks is captured immediately by adjacent 'in-row' cooling units. Coupled with a Hot-Aisle-Containment system to ensure 100% of the exhaust heat is captured, making the Datapod System an energy efficient, environmentally friendly data center.
The all-weather proof Datapod achieves a low PUE with less energy required to cool the IT load on the inside. Better still the steel skin of the Datapod is recyclable when decommissioned.
Pre-register for the Datapod Data Center Efficiency and Sustainability White Paper.
WHAT REDUNDANCY DOES THE DATAPOD OFFER?
The various Datapod units feature in-built Racks, UPS and Inrow cooling units, configurable to achieve a variety of redundancy levels.
Additional redundancy can be achieved by using dual-Starterpods, thereby doubling the UPS capacity and achieving a highly resilient 2(N+1) power system, as well as redundant cooling pipework for the N+1 InrowTM cooling units. All equipment racks within the Datapod range ship with dual/redundant rackmount PDU's.
WHAT RACK DENSITY OPTIONS DOES THE DATAPOD COME IN?
The Datapod System can be deployed in a density configuration suited to the customers' requirements and is hot-scalable once in the field. For example a Datapod System deployed with an average rack density of 7kW can be hot-scaled to 15kW per rack.
Likewise, a 15kW average rack density Datapod can be hot-scaled, to 30kW per rack without interruption to services.
WHAT SECURITY OPTIONS EXIST FOR THE DATAPOD?
The Datapod System itself is inherently secure, however security and monitoring enhancements can be selected. These include:
Physical security properties of a steel safe – upgradable to mil spec,
Provides the perfect faraday cage – signals and data shall remain secure even against EMP and evesdropping,
Internal and external cameras,
Enhanced door and lock (Bilock) options,
Prox-card and magnetic lock options,
Perimeter fence or wall (site specific, on request).
IS THE DATAPOD SYSTEM A REMOTELY MANAGED DATA CENTER THAT CAN BE MONITORED FROM VARIOUS LOCATIONS?
All Datapod Systems include our Integrated Monitoring and Control (IMCS) which is a ModBUS -based device management appliance and offering local and remote access to performance data of the entire system.
Furthermore, the IMCS system can extend to integrate into other client systems, and can be supplemented by a range of industry Data Center Infrastructure Management (DCIM) packages for further pro-active analysis on the performance of system.
For more frequently asked questions about the Datapod Modular Data Center system.