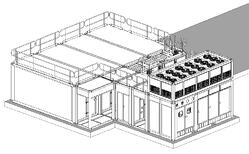 Datapod is using advanced 3D modelling software to bring data center designs to reality in a move that helps deliver better customer outcomes.
Revit software uses a database system called Building Information Management (or BIM) to deliver 3D model or virtual representations of their modular data center before building takes place.
These 3D representations enable the customer to see how the Datapod System would look on site as well as provide the customer with the ability to see animations or 'fly throughs' to see individual components that make up the system.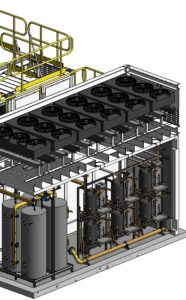 The Revit software also enables Datapod to further streamline and standardize the modular data center approach, by creating workflows, schedules and other milestones that are critical to the project. By using Revit, Datapod is able to deliver a better end product and use resources more efficiently during the manufacture of the product.
The adoption of Revit allows Datapod to meet the BuildingSMART International certification and enables users to drill down and see the finest millimetre detail and even identify any potential collisions between elements.
Datapod Design Engineer Peter Rankin said, "The Revit software is ideally suited to facilitate our modular data center plans and ideas from concept to construction with a co-ordinated and consistent model-based approach."
The Revit 3-D representation also delivers more certainty for Datapod customers.
"The animated 3D representation Datapod generates using the Revit program means customers can see exactly what the Datapod System will look like, and if required, apply changes quickly or make projections for the future. They no longer have to rely on a 2D CAD drawing and hope for the best. Revit is helping us to better design, coordinate and even in some circumstances, fast-track projects if we need to," Mr Rankin said.
For more information about the components that make the Datapod System download our System Guide.