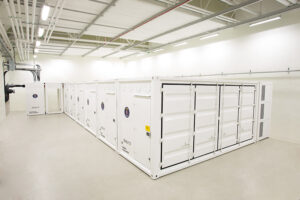 Datapod has been at the forefront of modular data center design and construction since 2007.
Datapod produces a modular Datapod data center System which provides a complete suite of site infrastructure, sub-systems including IT, facility and structural centric infrastructure systems for the everyday operation of a data center.
The Datapod System includes seven main modules and the packaged services required to deploy and support these modules.
To find out more about the components that make up the Datapod System download the System Components Guide.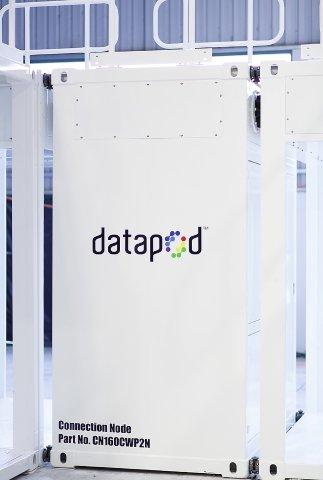 The central component of any Datapod deployment is the Connection Node.
The Connection Node could be described as a 'plantroom in a box', because it contains all the connection points and services typically found in the plant room of a commercial building, including power and communications.
Once deployed onsite, the necessary services including, mains power, generator power, chilled/condenser water, data communication services and network links can all be connected to the data center system.
The backup generator and chillers to run the air-conditioning systems are incorporated in the Utilitypod, which feeds into the Connection Node.
The Connection Node then supplies these services into the first of the Datapod data center building-blocks – known as the Starterpod.
Then scalable 'Expanderpod' modules can be added to give the customer the capacity and space they require.
To complete the data center space, the 'Endpod' is added, this enables customers to have dual hot ailse access to the data hall.
In some areas where climatic or environmental conditions dictate, an 'Entrypod' and the introduction of negative air pressure, gives the facility an added degree of protection against unwanted elements entering the data center.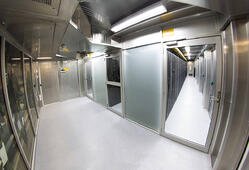 The Entrypod can also provide an administration area where additional desks and administrative equipment can be located. Secure glass doors separate the Entrypod area from the main datahall located in the Expanderpods as illustrated in picture on the right.
The entire Datapod System is also cyclone and lightning proof and can be deployed in extreme remote locations, such as rugged mining sites, remote defense locations as well as local urban centers.
As each of the Expanderpod module extends the IT capacity of the system, additional UPS and battery modules are incorporated. These are installed into the UPS chassis housed in the Starterpod, increasing power capacity and battery run time in accordance with the new rack capacity being added.