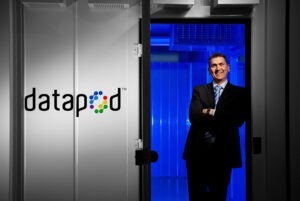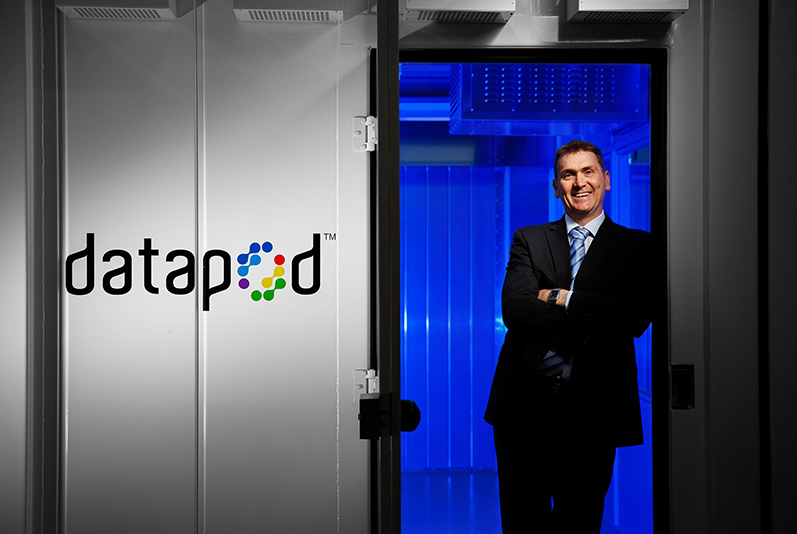 Sydney, November 9, 2015: Australian modular data centre manufacturer Datapod is gearing up its push into the highly competitive International market after forging a supply agreement with power management company, Eaton Australia.
Canberra-headquartered Datapod has secured its first US-based customer and plans to use that implementation to showcase its technology and design leadership. The company already has a growing customer base in both the Asia-Pacific and European regions.
According to Companies and Markets, the annual global modular data centre market is estimated to be worth $40.41 billion by 2018 and growing at a rate of 37.41 per cent each year.
"Since we started in 2007, Datapod has been an export-focused company," said Managing Director, Scott Carr (Pictured above) . "After having spent time designing and developing a mature product platform for clients in Australia, we are now turning our attention to the United States."
In Australia, Datapod has been providing advanced data centres facilities to a range of clients in the industries such as: Defence, Education, Infrastructure, Communications and Resources. Systems are built in the firm's ACT-based manufacturing facilities before being shipped to customer sites for installation.
Streamlining the supply chain
In an effort to streamline its manufacturing, Datapod has entered into a supply agreement with Eaton Australia. Under the agreement, Datapod will implement Eaton power quality management equipment into its data centres. In the future these will be augmented by Eaton power distribution and security products..
"When you are manufacturing a modular data centre, each time you begin a new project you find you have to raise purchase orders with 30 or 40 different component suppliers," said Carr. "With Eaton, we are able to source multiple best-of-breed products from a single supplier."
Carr said that, as well as the range and quality of components available from Eaton, the company's willingness to adapt was also attractive to Datapod. "Eaton will modify their products and services to enable them to work more effectively within the Datapod system. We don't find ourselves having to try to fit square pegs into round holes."
Gordon Makryllos, Managing Director ANZ, Eaton, said its long-term experience in the design and manufacture of power components for data centres meant Eaton could meet the need for high-performance at a realistic price point. "With our global experience we are keen to support Australian Innovation in a global market.
"We understand the demands of modular data centres, which can sometimes be required to operate in harsh conditions and with variable external power supplies. We're confident our power quality technology can help Datapod meet the particular needs of all its customers."
First U.S.A customer
Datapod's first US customer is Washington-based utility company WSSC. One of the largest water and waste water utilities in the country, WSSC serves more than 1.8 million residents.
Carr said the utility was implementing Datapod modular data centres as part of an aggressive plan to provide IT services for neighbouring utilities and public-sector bodies. "They are establishing a bureau-like IT services offering and needed a way to grow their data centre resources and capacity as client demands increased," he said.
Working closely with WSSC, Datapod designed a multi-level modular data centre. As workloads increase, extra modules can be stacked on the initial installation, allowing storage and processing capacity to be quickly increased as required.
"We refer to our approach as Lego for data centres," said Carr. "We have a menu-driven configuration process which allows customers to select the specific features and capacities that they need. The result is a very flexible data centre delivery and implementation offering."
Future growth
As customer numbers in the US increase, Carr said Datapod would establish a distribution facility there to complete final fit-outs and quality assurance testing. Pre-assembly of Eaton components will be undertaken within Eaton's manufacturing facilities worldwide.
"This advanced manufacturing approach is well established with global manufacturers such as those operating in the car manufacturing industry," he said. "It's the same as a car manufacturer building the engine in one country and the chassis in another country and then shipping it all to the country of sale for final completion and distribution. Eaton's components are globally available and globally supported which is essential to our expansion plans."
– Ends –
Eaton
Eaton's electrical business is a global leader with expertise in power distribution and circuit protection; backup power protection; control and automation; lighting and security; structural solutions and wiring devices; solutions for harsh and hazardous environments; and engineering services. Eaton is positioned through its global solutions to answer today's most critical electrical power management challenges.
Eaton is a power management company with 2014 sales of US $22.6 billion. Eaton provides energy-efficient solutions that help our customers effectively manage electrical, hydraulic and mechanical power more efficiently, safely and sustainably. Eaton has approximately 102,000 employees and sells products to customers in more than 175 countries. For more information, visit www.eaton.com.
Datapod
Datapod is an innovative modular data center manufacturer offering a complete site infrastructure solution that can be deployed indoors or out.
Manufactured in Canberra Australia, with a global distribution network, the modular Datapod System can be customer factory acceptance tested, manufactured in 12 weeks, shipped to any location on the planet and assembled on site 72 hours, delivering significant CAPEX and OPEX savings for Datapod customers. The modular approach de-risks capital investments by enabling customers to right-size, move and scale to meet changing requirements as their needs evolve.