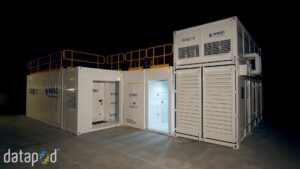 Data center technology is at the center of the mobile, cloud, information and social media economy.

We know the data center is a location housing servers and communication systems enabling businesses to run websites, cloud based software and other information and bandwidth rich systems.
With data centers becoming an integral part of any business touching software, social networking, or other business systems, modular data centers are providing a unique opportunity for businesses to temporarily or permanently host their data needs. 
There are many advantages of using a modular data center over a traditional one, and the following six areas show some of the differences between modular and permanent data center construction and how each one can benefit your organisation.
1. Quality Control
One of the major differences between modular data centers and warehouse data centers is the system for quality control available via a modular production process.
Every data center housed in a building is going to have unique issues in the construction of that building. These issues include different construction crews, different inspection teams, and even different hardware and software infrastructure and installation teams if enough time has passed between data center production. On the other hand, modular data centers are produced to measurable specifications using similar inspection and construction materials and teams. This factory manufacturing system produces predictable quality results every time.(NOTE – include a line about the site specific engineering requirements of most large traditional datacenters. Unque designs bring unique problems. Less on the different construction crews.)
2. Modular Data Center Scalability
Although many large data centers have space for your business to scale within their warehouse, there is a large cost and time delay as racks are positioned and installed and your ICT equipment is provisioned and integrated into the data center. A modular datapod on the other hand can be delivered intact and ready for use.
This allows your business to scale up and down swiftly and cost effectively regardless of location or time table. Additionally, modular data centers give your business control of your servers as you scale your business reducing the risk associated with using colocation services in other business's data centers to scale.
3. Maintain the Most Up-To Date Technology
Traditional data centers require planning years ahead of current needs in order to save on capital costs. This causes many private data centers to fall behind on technology trends because they cannot adopt new technology fast enough with the costs and time associated with legacy construction and development. A modular system focuses on a much smaller time frame for construction, deployment, depreciation and redeployment. This means that your technology will be more up to date and as your business scales, you will always have the best technology available to do so.
4. Resource Allocation
Whether using colocation or legacy construction, traditional data center options require that you pay for the costs of heating, cooling, humidity control and power requirements for a section of the data center often much larger than you need. While colocation costs are spread across all the inhabitants of the data center, it still often requires temperature and power provided to areas not currently in use. This cost is paid by the colocation customers. A full size data center owned solely by your own business has the potential to increase costs and energy resources over years while you are waiting to increase your data center use to include the floor space currently sitting empty. Modular data centers give you the ability to allocate resources for only the space you are currently using.
5. Environmental Systems
Datapods are enclosed environments. This gives the heating and cooling systems green options which operate well above industry standards for data centers. Since data center cooling operations are some of the largest consumers of water globally and are the largest consumers of power, creating ecologically sustainable data centers is one of the major differentiating principle of modular data centers. A closed system can easily utilize water-side free cooling techniques, heat sink technologies and power efficiency technologies to provide the smallest possible environmental footprint. To pre-register for the Datapod Efficiency and Sustainability White Paper click here.
These differences between modular, legacy construction and colocation show that Datapod Systems create opportunities for organisations in any industry to increase data management while controlling environmental, capital and labour costs.
Datapod Systems can also provide unique secure technological solutions for organisations needing large amounts of data in secure environments like hospitals, airlines, security firms and other industries dealing with large amounts of sensitive data.
Whether your organisation is looking at creating a unique data center solution for your internal information, creating cloud based software systems, offering data storage to your customers or needing to expand into more regional and international communication networks, modular data centers are a great option for data management.
These five differences give organisations tools to grow, to manage their information securely and to create custom affordable solutions for data needs. These are only some of the many differences between modular containerized and traditional data centers, for more information on modular data centers including specifications and customization options, please download our system guide.
For any other questions regarding data center technology or the range of solutions Datapod provide download the Datapod White paper or contact us today.