The modern CIO could be forgiven for feeling like an island surrounded by shark-infested waters.
With budgetary restraints and the weight of accessing, using and protecting big data on their shoulders, many CIOs are feeling the pressure and asking 'how do I reduce data center costs'.
That's why Datapod's award-winning modular data center system is becoming the new 'norm' in data center infrastructure.
We all know, Datapod's system is flexible and scalable, to suit any size of business, and the modular system means that additional capacity can be purchased inline with organisational growth, effectively future-proofing the company's data center needs.
Costs are kept low through a standardised, production-line approach. This has the added benefit of increasing quality control, with every part checked against pre-set standards and factory acceptance tested before being released from the factory.
Traditional, custom-engineered data center construction comes with a host of associated risks, delays and steep costs, and can result in an inflexible end facility. Repeatable modular design solves all of these problems, while economies of scale result in lower capital investment, improved capital efficiency, reduced operational costs and decreased cost of total ownership.
Table 1.1 below shows an example scenario of a customer requiring 150-kW of incremental IT capacity annually for the next five years, for a total of 1-MW IT capacity. The assumed energy cost in the example below is 12.01¢/KW/hr.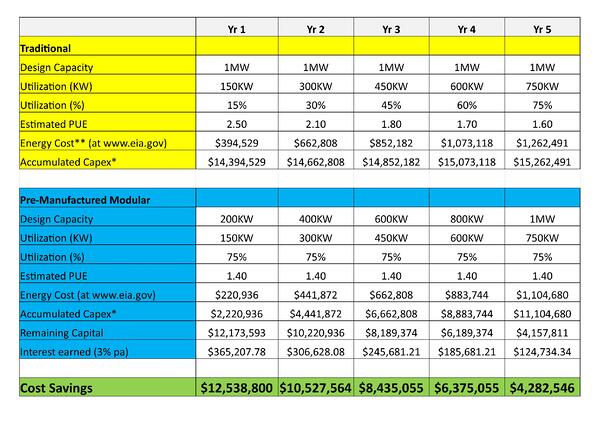 *http://www.constructionexec.com/Issues/February_2012/Economic_Outlook.aspx
**http://www.eia.gov
Given the figures in table 1.1, it's no wonder that government and private sector CIO's in areas as diverse as mining, petroleum, finance and education are getting excited over the possibilities that modular data center construction offers.
As well as having numerous financial and operational advantages over traditional, bricks and mortar data centers, Datapod's modular system also offers a level of security and corporate risk advantages that hosting in the cloud cannot match.
Many CIO's rightly fear the cloud's capability as a reliable solution when protecting data and data sovereignty.
Last year's annual Computer Weekly/TechTarget IT Priorities Survey found that security, reliability and protecting company data were major concerns for those considering the use of the cloud for business critical data.
Data center downtime and loss of production is another issue keeping many CIO's awake at night.
According to the Aberdeen Group's 2010 research (Disaster Avoidance and Disaster Recovery; Making your Datacenter Disaster Resilient), organisations lose an average of $138,000 for every hour their data centers are down. For companies with more than 1,000 employees, that's $1.1 million per year.
Datapod's modular data center system has been designed with reduced downtime in mind.
Our engineers have taken into account factors such as extreme outside temperatures, protection from the ingress of moisture, dirt and dust, and the effects of lightning strikes, cyclones and other extreme events. Thus the Datapod data center can survive in the most extreme outdoor environments, with intricately designed utility pods providing the full power and cooling redundancy your would expect from an world class enterprise grade data center.
At every stage of development, flexibility has been at the heart of Datapod's design, to the extent that the system does not require an all or nothing approach.
The Datapod System can be used alongside existing data center buildings as well as augmenting cloud-based services, or as a stepping stone to moving to a full modular data center infrastructure. Such integration means that the Datapod infrastructure can act as a disaster recovery option or extra redundancy for organisations with those systems already in place.
This flexible modular approach is reflective of Datapod's fundamental belief that data centers of the future are machines, not buildings. Datapod's work has proven the validity of this core truth time and again, while at the same time saving CIO's money on their bottom line.
Global data demands are continuing to grow. In 2011 Science journal published the results of a scientific estimate of the amount of data stored in the world by 2007. The result was 295 exabytes – the equivalent of 1.2 billion average hard drives. Interestingly, the scientists found that in 2000 75% of information was stored in analogue format. Just seven years later, an incredible 94% of it was stored digitally.
This growth of big data has led to data centers becoming increasingly critical.
The latest research into the sector from Markets and Markets projected that by 2018, the size of the modular data center market will reach $40 billion, as more and more CIO's understand the advantages of the scalability, flexibility, reusability, portability, reduced deployment time, enhanced efficiency and lower total cost of ownership that modular centers provide.
Datapod's award-winning modular infrastructure provides a high quality, cost effective solution for companies across a wide range of industries. It's ready for deployment now. What are you waiting for?