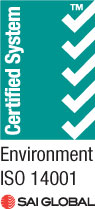 The Environment ISO 14001 certification is issued by SAI Global and means Datapod's management system has been certified to this standard.
The Environment ISO 14001 only covers Environmental Management Systems certification, however Datapod also has certifications for Quality and OH&S.
The Environmental certification means Datapod can better meet the needs of international customers and better deliver their outcomes.
The certification also provides Datapod with a continuous path of development and improvement which provides a more efficient allocation of resources and better company performance.
The certification means Datapod's it is measured against a best practice standard and environmental impact is minimized.
The certification audit was conducted by ISO Global and they conduct periodic audits starting in 2014.