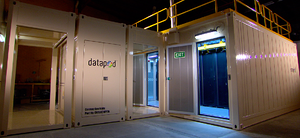 Datapod will showcase their 'Cloud in a box' solution at this week's QuestNet Conference to be held at the Brisbane Convention and Exhibition Centre from Tuesday 1st July through Friday 4th July.
The Cloud in a box (CIAB) solution enables the university and research sector to deploy a provide a cloud solution by using modular data centre infrastructure and in a significantly reduced amount of time and cost.
Datapod CIAB approach has standardised the complete suite of infrastructure systems, including, modular data centre, networking, storage, compute, open source software and services. The Datapod CIAB means services can be delivered regardless of whether they are internal or external to the organisation and is a seamless way to deliver DCaaS / IaaS / PaaS / DBaaS.
The Datapod approach has many benefits for the university and research sector including:
Enhancing teacher outcomes and student experiences by providing a flexible data centre solution,
Driving down IT costs by deploying a modular data centre system that enables universities to 'clip on' extra capacity as required and by using a more energy efficient solution,
Reducing the organisations carbon footprint by accessing leading energy efficient data centre technology,
Enabling universities to be more responsive to change, exploit IT and de-risk data centre investment,
Enable universities to create new revenue streams and capitalise on the trend to offer data centre and cloud computing services to external organisations or other collaborators.
Datapod's appearance at QuestNet 2014 also coincides with Datapod's recent appointment by the Council of Australian University Directors of Information Technology (CAUDIT) to the Research Data Storage Infrastructure (RDSI) Panel.
We are seeing international universities leading the way with modular data centre technology and by doing so they are delivering major benefits to their organisation and the science and research community, and we are working to deliver those benefits to institutions here in Australia.
The modular and CIAB approach to data centre investment enables the university sector to de-risk their investment, and importantly, deliver a cost effective solutions that lay the platform for future computing technology.
The QuestNet conference provides a valuable opportunity for ICT professionals working in higher education and research organisations to hear from a distinguished cohort of keynote speakers; network with peers; take in the best offerings from the market-place in the trade exhibit; and enjoy a range of social events.
For more information Datapod visit Datapod.com or visit stand 14 at QuestNet 2014.