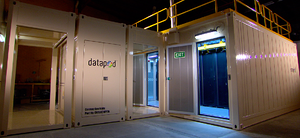 Ideal for cloud service providers, telcos, university and research, enterprise and government departments looking to deliver DCaaS / IaaS / PaaS / DBaaS in the most secure and most economic means possible
COMPLETE
Datapod has standardised the complete suite of infrastructure systems including, modular data center, networking, storage, compute, open source software and services. The Datapod Cloud in a Box means services can be delivered regardless of whether they are internal or external to the organisation and is a seamless way to deliver DCaaS / IaaS / PaaS / DBaaS.
Complete control of your infrastructure and data. Know where your data is stored and keep complete control over your network access.
Industry standard components are integrated to create a proven and reliable solution with the economics of large public cloud service providers but without the inherent limitations around security and performance.
Provide your customers self service access through an advanced provisioning and management platform enabling your customers to deploy and scale their complete infrastructure solution on demand.
Open Source Software means no-vendor lock in. Hypervisor choice – Citrix XenServer, MS Hyper-V, Vmware ESXi vSphere. Orchestration choice – Cloud Stack, Open Stack, vCloud.
SECURE
Configure your cloud solution to operate public cloud, community cloud, private cloud and hybrid cloud model to suit your customers
Datapod Physical Security – Structurally independent secure access and mantraps, single or multi tenanted facilities with security options to meet the highest physical security standards.
Manage your data and network security including full administration control, security audit logs, trace files.
Disaster Ready – Resistant against, blast, flood, fire, earthquake, and lightning. Redeployable complete with cloud infrastructure to non disaster affected areas.
ON DEMAND
Capability of delivering complete open cloud Infrastructure that's factory assembled, tested and de-risked, and deployable anywhere – indoors or out and on demand.
eco-Systematic approach to delivering capacity that aims for nil-underutilisation using incremental, on demand growth coupled with 100% reusable, renewable and recyclable IT assets.
Eliminate risk of sunk costs through a flexible means to re-levelling infrastructure capacity that mitigates very expensive migration costs and expensive consolidation costs
Eliminate latency problems, scale carrier network capacity and redundancy, with benefits of out of band network monitoring and control including satellite services.
Benefits of coupled flexibility between cloud computing and modular data centers.