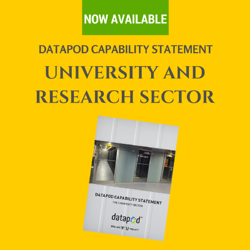 CANBERRA Australia: Datapod has released their modular data center capability statement for the university and research sector today and the document is now ready for download from the Datapod website.
The University and Research Capability Statement is a follow up to the Datapod White Paper and a number of other capability statements for other industry sectors.
The university and research sector presents a challenging data center environment because of the diverse range of applications and users that must be accommodated.
The university and research sectors underlying data centre infrastructure must support a broad spectrum of requirements ranging from High Performance Computing (HPC) systems to highly resilient enterprise systems, while also ensuring capital and operational cost efficiency and flexibility to cater for future demands as they arise.
Datapod Director and Chief Architect Mr Scott Carr said, 'The Datapod System is purpose built for such an environment and our professional team has extensive experience to guide you through the pitfalls and challenges that you are facing. I welcome you to our capabilities in the university and research sector and invite you to follow up with our team who are ready to assist you with any further questions."
Key take-outs from the University and Research Capability Statement include:
Datapod modular data centers provide a flexible and scalable solution,
OPEX and CAPEX savings associated with the modular data center approach,
How Datapod is positioned to assist Universities to drive better student, teacher and research outcomes,
Drive productivity and profitability,as well as better environmental outcomes though energy efficient and sustainable modular data center deployments.
Enable universities to add new revenue streamlines and extend their brands into new markets.
Datapod is a multi-award winning manufacturer of modular data centers and ships to locations around the world.