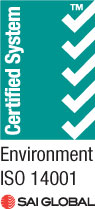 Datapod has successfully completed a surveillance audit for Environment Management Systems ISO 14001 and Occupational Health and Safety Management Systems ISO 4801 with SAI Global.
SAI conduct yearly surveillance audits to ensure Datapod is achieving the ISO standards with a recertification occurring every three years.
The ISO certifications help Datapod to implement, maintain and improve management systems and enable Datapod to deliver better outcomes for their staff and for their customers.
Each certification applies to the following scope:
Sales,
Manufacture,
Assembly,
Installation of modular containerized data centers and associated program/project management and maintenance services.
Datapod Occupational, Health, Safety and Environment Coordinator Shontelle Hellyer said, "The completion of the surveillance audit of the ISO 4801 and ISO 14001 means Datapod is performing at a high level. Better still, our processes and systems include sub-contractors which allow to Datapod add value right through our customer's supply chain. It also means we have a team who take safety and the environment seriously."
Through the ISO certifications Datapod:
Reduces risk and liability,
Improves employee morale and performance,
Enhances the reputation as a safe and reliable partner, contractor or supplier
Significantly reduces costs associated with injuries,
Datapod can better meet the needs of international customers and better deliver their outcomes,
Provides Datapod with a continuous path of development and improvement which provides a more efficient allocation of resources and better company performance.
Datapod's continuous path of improvement is set to include Bringing Your Own Device (BYOD) and App technology to monitor, maintain and report safety and other activities, including risk assessments associated with site deployments.
In related news read how Datapod recently reached 600 days without a Lost Time Injury (LTE).