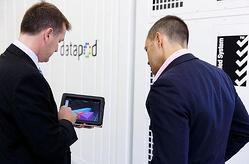 Datapod offers a range of modular data center consultant services.
This blog series looks at each stage of a Datapod deployment and the associated services we offer and this blog specifically looks at the Installation Consultancy Service.
The data center consultancy services form part of the  'lifecycle' of services  offered by Datapod and enable organisations to better plan, design, implement, deliver and maintain their critical data center infrastructure.
Modular data center installation and consultancy service
The Installation Consultancy Service is a key part of a Datapod deployment and the team is headed by Datapod Services Manager Tracey Reid.
This service ensures the Datapod System installation prerequisites are identified and appropriate measures and considerations are put in place for the project. Installation prerequisites may include assessment and review of:
Accessibility and planning for relevant service connects such as telecommunications, power, water
Development and implementation of contract considerations
Site suitability, including assessment of greenfield sites, load bearing provisions (in cases where the system is placed onto another structure – such as a building roof top or other building structure)
Safety and any other workplace, health and environmental factors that may potentially impact on the deployment of a system
Equipment required for the deployment
Climatic factors and identification of potential site and project impacts
Identification and confirmation of infrastructure mandatories
Development of a deployment plan and schedule
Future required capacity – will the Datapod System require additional modules into the future.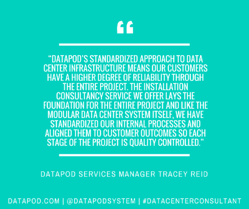 The Installation Consultancy Service means Datapod customers have considerably more control over project costs, schedule, and greater visibility when compared with a traditional custom data center builds and because the data center system is scalable costs and infrastructure can be spread across two or more budget periods.
Datapod Services Manager Tracey Reid said, "Our standardized approach to data center infrastructure means our customers have a higher degree of reliability through the entire project. The Installation Consultancy Service we offer lays the foundation for the entire project and like the modular data center system itself, we have standardized our internal processes and aligned them to customer outcomes so each stage of the project is quality controlled."
The site Installation Consultancy Service team work directly with the customer's project manager and the Datapod team work to the following international certifications:
In circumstances where the customer does not have a Project Manager, Datapod offers a Project Management service in addition to the Installation Consultancy Service. We will talk more specifically about this in a future blog – or click Datapod Consultancy Services information. 
For more information about the Datapod Installation Consultancy Service or other services offered by Datapod contact the Datapod Services Manager. 
For more information about the Datapod System down load our white paper.

OTHER POSTS IN THE SERVICES BLOG SERIES: