Site preparation is critical to any deployment and Datapod provides this service as part of a full life cycle of data center management services.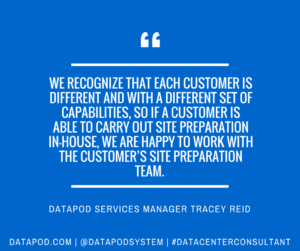 Whether contained in a building or in and external environment each modular data center deployment poses a different set criteria that need to be met.
The Datapod Site Preparation Service provides a follow-up to the Installation Consultancy Service as mentioned in the first blog in the series, where the customer is presented with a proposed scope of works, along with a detailed quotation for the supply of the services required to prepare the proposed site in advance of delivery of the Datapod System.
Data center consultant: The Site Preparation Service
The Datapod Site Preparation service involves executing the site preparation component of the overall project plan and can involve the following:
Site levelling and where required, the organization of associated services to ensure the site can accommodate a Datapod System. This includes but is not limited to site surveys and engineer reports.
Provision of electrical and telecommunications services and the associated mechanical services.
Organisation of associated permits, applications and other provisions (if required).
The scalable and flexible nature of the Datapod System means like each modular data center configuration, each site maybe different also. For example the a roof top deployment in Singapore, would need to ensure existing building infrastructure is able to accommodate the size, weight and utility service requirements of the system, where as a remote deployment at a sensitive defense or mine location, may require fewer considerations.
Datapod provide the customer with the option of carrying out the work associated with the site preparation using their own resources or the option of contracting Datapod to carry out the work for them.
Datapod's Data Center Services Manager Tracey Reid said, "We recognise that each customer is different and with a different set of capabilities, so if a customer is able to carry out site preparation in-house, we are happy to work with the customer's site preparation team. Alternatively, where these resources are not available, this is where Datapod can add value to the project and ensure the site is ready for a Datapod deployment."
It is important to note, because of the modular approach to construction and deployment, work on the construction of the modular data center and the preparation of the site can happen simultaneously.
This is one of the advantages of the system and a reason why the Datapod System can be deployed within weeks, instead of months or years.
For more information about the Site Preparation Service or any other services provided by Datapod contact our Services Manager.
For more information about Datapod download the Datapod White Paper.