Implementing leading data center design is critical to the future success of organisations around the world.
As the world becomes more connected online and 'internet of things' technologies increase, so to do the demands on managing and processing data and the data centers themselves.
The Datapod DATA CENTER 2.0 'The Perfect Storm Has Arrived' White Paper provides a comprehensive and practical look into modular data center technology and how the technology can be applied to meet the challenges faced by organisations around the world.
In this blog, we provide an insight into the white paper, with a look at the table of contents, as well as a look at the first two sections of the document.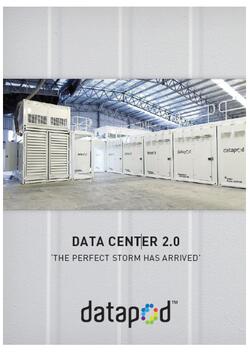 DATA CENTER 2.0 'The Perfect Storm Has Arrived'
Contents
1.0 Introduction
2.0 Where is the industry heading?
3.0 So what makes a Dater Center 2.0?
4.0 How the Datapod System compares
4.1 How can the Datapod System be applied?
4.2 Examples in action
4.2.1 Example one – The university sector
4.2.2 Example two – The mining sector
5.0 How the modular data center approach is resolving issues facing CIO's
5.1 Challenges
5.2 Infrastructure
5.3 Space
5.4 Colocation Option
5.6 Demand Spike
5.7 Fresh approach to a growing problem
6.0 Example customer requirement
7.0 Keeping it simple through streamlining
8.0 Ultimate design – The Datapod System's modules
8.1 Projectpod
8.2 Starterpod
8.3 Expanderpod
8.4 Endpod
8.5 Connection Node
8.6 Entrypod
8.7 Utilitypod
9.0 Anytime, anywhere
9.1 Dependability
9.2 Extreme environments
9.3 Plug & play benefits
9.4 Less cost
9.5 Fast assembly quick to deploy
9.6 Better outcomes start with a quality data center
9.7 Carbon footprint reduction
10.0 Speak to Datapod
Introduction
A combination of technological, economic and market factors have created an environment for unprecedented disruptive change and has created a 'perfect storm' where data centers need to be engineered and constructed in a fundamentally different way.
The new way is the creation of standardised modular data centers and this fundamental change is not a fad: rather a pathway to achieve better outcomes with fewer resources.
Datapod is at the forefront of this fundamental change and a leading provider of Data Center 2.0 (DC2.0) technology. The Datapod data center system is an innovative modular data center providing a complete site infrastructure solution as well as class-leading performance and efficiency.
The explosion of data generated and used by corporations, organisations, and individuals today places increasing demands on data centers, from space constraints to power usage, cooling loads, and physical security with many CIO's questioned on the ability of their organisation to meet demands into the short and medium term.
This white paper provides an industry snapshot of how Data Center 2.0 modular Datapod technology can not only meet, but exceed the needs of customers into the medium and longer term through a standardised and scalable approach.
Where is the industry heading?
A recent article by Alex De Angelis from the website Companies and Markets indicates the modular data center market has been forecast to increase at a compound annual growth rate (CAGR) of approximately 37.41% over the next five years, increasing from a valuation of $8.25 billion at the start of 2013, to hit a market value of $40.41 billion by 2018.
This projected growth is in the context of the financial crisis which jolted the global economy in 2008, the effects of which many of the world's largest economies are still grappling. This means organisations need to do more with less.
According to Gartner Vice President David Cappuccio by 2016, 60% of new data centers will be smaller while supporting a 300% increased workload. In an interview with David Cappuccio by renowned data center industry writer Rich Miller on 10 December 2010, David said "You'll be hearing a lot about modular designs from vendors, and from Gartner … the modular design approach just makes sense."
Gartner's focus on modular data centers is significant, given the research firm's wide following in enterprise IT.
Numerous industry articles suggest the modular approach appeals to enterprise customers because of the focus on timely deployment and incremental expansion, which enables organisations to deploy capital gradually.
According to the Datacenter Dynamics 2012 Global Census, there has been a 63% growth in global data center power requirements causing most companies to prioritise the more efficient management of power and cooling costs.
About 40% of IT executives surveyed say that their organisations have taken steps toward making their data centers greener, and another 40% surveyed say they would like to go in this direction.
Datapod Director of Operations Adam Smith believes the data center industry has entered a period where modular data center solutions are becoming the 'new normal'.
Mr Smith points to the Gartner Hype Cycle (see diagram 1.1) where he believes the Data Center 2.0 is now entering the 'Plateau of Productivity'.
Mr Smith said, "The establishment of reference customers, factory tours and a growing body of evidence is providing customers with reliable and tangible data on which to base their future data center investment decisions."
In addition to Mr Smith's comments, the Datacenter Dynamics 2012 Global Census indicated, more than half of IT executives said they were actively considering or moving forward with server consolidation, blade deployment, virtualisation and outsourcing servers/storage, and installing more energy efficient equipment.
Enter the Datapod System and the innovative modular Data Center 2.0 approaches.
As this white paper will demonstrate we are now in a period where for the first time the modular Data Center 2.0 approaches can be deployed to solve any requirement.
White Paper Key Take Outs
Don't delay adopting modular data center technology,
the 'perfect storm' has arrived and market acceptance
is increasing rapidly across all sectors.
The benefits of standardised components is
de-risking investment, driving down CAPEX and OPEX and delivering better environmental outcomes. Datapod has developed into a leading global provider of modular Data Center 2.0 technology with factories in Australia and global assembly networks, Datapod can deployed to most urban or remote locations on the planet.
Download the full version of the Datapod White Paper.