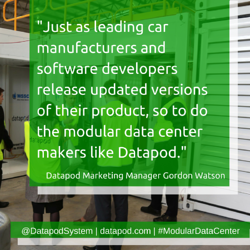 The ability to 'right-size', deploy faster, and scalability means the modular approach is turning conventional data center design on its head.
The modular data center design also simplifies the process. For example, a Datapod System can be designed using any number of different modules and in a number of different configurations, so the needs of the customer can be met.
Data center design can now begin by using an App, like the Datapod App available for Apple iPad from the Apple Store and is just one way modular data center makers are tapping into what research company Markets and Markets predicts will be a market worth $40 Billion by 2018.
The Datapod App lets customers configure their data center design according to a number of different criteria. Power, IT and cooling can be determined by selecting the requirements that meet the customer needs.
Part of the success of the Datapod modular data center design is the unique removable side-walls, and the cleverly designed waterproof joining mechanism that enables multiple 'pods' to be bayed together.
Customers can create a data center, as big or small as they wish, when they wish.
Another key to the successful data center design is the Connection Node.
The Connection Node is a 'plant room in a box', it contains all the connection points and services typically found in the plant room of a commercial building, including power, cooling, and data communications.
Extra redundancy can be built into the data center system, including backup generator and chillers to run the air-conditioning systems by deploying a Utilitypod, which feeds into the Connection Node.
It is this building block design that enables the entire system to be deployed in just days from a site becoming ready.
Data center design has never been so easy.
Just as leading car manufacturers and software developers release updated versions of their product, so to do the modular data center makers like Datapod.
The manufactured approach allows continuous advancements in design enabling users to realise the benefits of standardisation, manufacturing efficiencies and reduced time to deployment.
To learn more about the modular data center design download the Datapod White Paper.

Also read about: