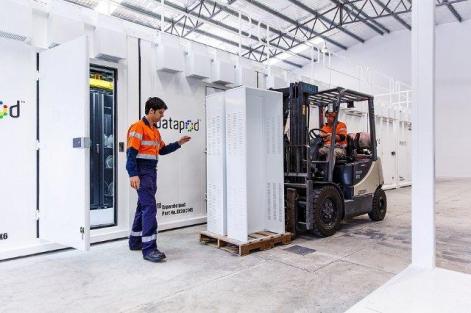 Modular data center manufacturer, Datapod, is leading the way when it comes to data center standardisation and production with the approach being touted as the data center industry's Model-T Ford moment and compared to the way that model changed the car industry.
With a number of modular data centers under construction in their two factories at any one time, Datapod produces a quality standardised modular data center with customers receiving the benefit of a short time to deployment and lower operating and capital costs.
Datapod Director Adam Smith said, "A modular solution takes the best ideas for design, reliability and efficiency and packages everything into a prefabricated, repeatable and operationally optimized modular data center system. This translates to an agile data center environment which is capable of scale. This really is the data center industry's Model-T Ford moment."
The Datapod modular data center incorporates a click-together engineering with a patented removable wall design. The production line approach delivers significant economies of scale which in turn provides customers with the benefits associated with repeatable, standardized modules.
Like never before, customers can more accurately match demand and scale infrastructure quickly. Modules can be added when extra capacity is required or scaled down when infrastructure becomes obsolete.
The modular data center infrastructure has the added benefit of bringing the data center infrastructure into full control of the CIO and out of the realm of the Facilities Department.
Faced with budgetary restraints and the weight of positioning their organisation to leverage from advances in technology, more CIO's rely on Datapod to meet these challenges. 
Mr Smith adds, "The modular design, flexibility and quality of our system means CIO's can overcome current challenges and in some cases, leapfrog their competition. Better still, the deployment of a our System means customers can use advances in IT to drive the organisation instead of holding it back."
Datapod is a multi-award winning data center engineering company to find out more simply download the White Paper.