Power companies, gas and water utilities rely increasingly on services arranged in "smart grids." Advanced metering and service distribution around the grid can generate huge amounts of data. Once the data processing system is fully developed utilities will be able to receive and apply information with an unprecedented level of detail. The availability of this detailed information will profoundly affect the relationship between utilities and their consumers.
Smart grids require information management. Data centers will become an increasingly important part of the utility infrastructure. Management of rooftop solar panels and other alternative energy generators within the grid and anything else that involves control of more points of presence in the distribution of utility services increases the need for data management.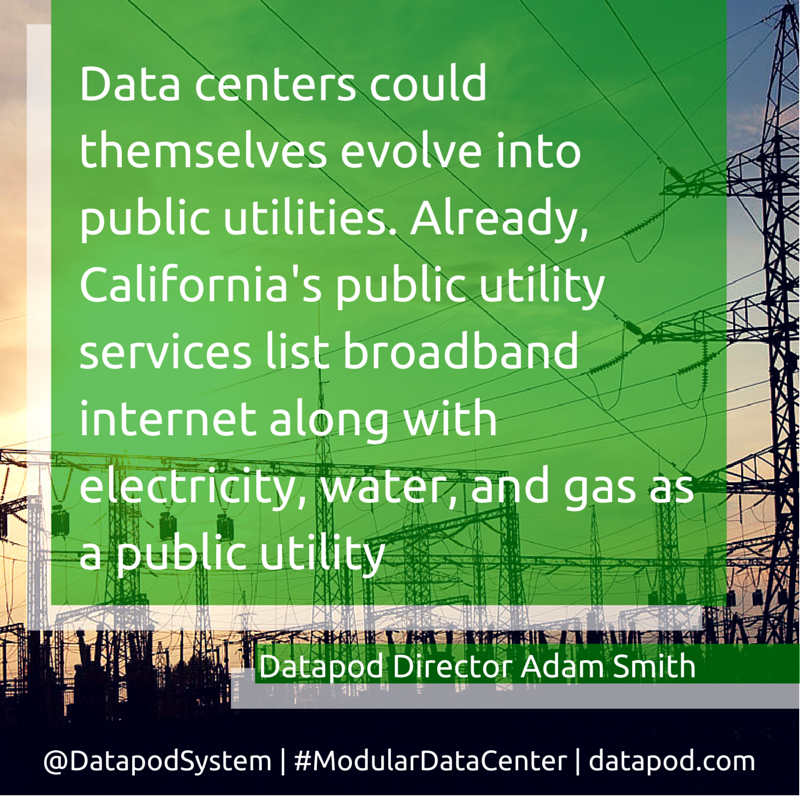 As utilities integrate their smart grid infrastructures the volume of information increases. Some experts are asking what the information processing demand will be when smart grids for electricity, water, gas and telecom utilities are integrated together. As the world moves closer to full integration of the internet of things, the information processing demand could grow dramatically.
Data centers as public utilities
Data centers could themselves evolve into public utilities. Already, California's public utility services list broadband internet along with electricity, water, and gas as a public utility (California Public Utilities Commission Emerging Issues Forum). Many data centers have substantial backup power capacity that is unused almost all the time. Data centers could themselves be tied into a power grid like wind turbines or solar panels. The processing of data for public utilities is in fact a public utility.
California has already started to debate the privacy issue in its discussion of big data applications for the power grid. They are contemplating a legal environment where privacy rights can be violated by information that could soon be made available to public utilities.
How can smart grids meet their data processing demand?
Many public utilities have begun speculating about the use of modular data centers equipped with fuel cells or biogas power sources situated near high density data input points.
The latest eBay facility near Salt Lake City, Utah is often cited as an example of a production data center that does not rely on generators for power. The eBay facility is powered by natural gas converted to electricity and uses the local utility grid as a backup.
Microsoft researchers have plans for modular data centers at the sites of waste treatment plants that could use biogas to electricity fuel cell technology for power. Microsoft along with Siemens actually opened such a zero-carbon, biogas powered data center in Cheyenne, Wyoming. The fuel cell generates about 300 kW of renewable power of which 100 kW is unused by the data center and could be added to the power grid.
Large data centers consume about 1.5% of total electricity demand globally. That percentage will clearly increase as the world moves into the digitally-connected, network-centric social, commercial and industrial environment. Large cloud based data centers consume vast and increasing amounts of energy.
The use of modular data centers powered by clean energy sources is seen by many as a way of reducing the energy footprint of data management. In 2013, the Arizona Public Service directly compared the energy efficiency of "traditional raised floor" data centers and modular data centers. They found significant efficiency improvements in the modular systems. The difference translated into a potential saving of $200,000 per megawatt of information processing output. Their report concludes:
Modular systems ensure more efficient use of space that promotes greater energy efficiency.
Features include sealed walls, floors and doors as well as under-floor or overhead cooling systems that enhance energy efficiency.
More precisely engineered airflow support many times more output per cabinet than traditional systems.
According to the Datacenter Journal, currently the penetration of modular data centers is about 1% of total capacity. Even though the percentage seems small, the market is actually worth nearly a billion dollars a year. It is estimated to be growing about 20% per year as well.
In 2014, the Washington Suburban Sanitary Commission (WSSC) contracted with Datapod to provide a four pod modular data center system to manage its water and waste management systems. The WSSC is the public utility operating water and waste water services for nearly two million people around the nation's capital region. The Datapod system represents a new approach to data center design, including its own power, cooling, fire-suppression and generator power backup in the design. This is a four module system designed to be scaled-up about 5 times its present capacity over time.
At the end of 2014, Datacenter Dynamics, the newsletter of data centers, reported that the Salt River Project in Central Arizona has begun the installation of modular data centers outdoors near the utilities electrical infrastructure with direct connections to the power grid. The utility company believes that modular units placed closer to the power grid itself has a number of important advantages.
It allows the data center to grow and change while minimizing the impact of constructing new power lines.
It drastically reduces the time needed to increase data center capacity.
Organizations that need to ramp up capacity can do so in a more incremental, cost and time effective way.
The modular units are connected to a bulk transmission line which is more reliable than a conventional power feed, with redundant feeds for backup instead of a diesel generator.
Modular data centers directly connected to power stations could evolve into a data center computing grid. With completely reliable power sources at hand where telecom and power lines meet, more modular units can be added to keep pace with demand much faster than stationary facilities can be built or upgraded.
Datapod is a leading provider of modular data center solutions for more information about Datapod down load the Datapod White Paper or pre-register for the Datapod Data Center Efficiency and Sustainability White Paper.