The enterprise IT landscape has to be able to adapt to changing business needs and whether you need a server room or data center for a new site, a refurbishment or a temporary facility, the challenge is always the same – data center right-sizing.
From its conception, a traditional 1.0 'bricks and mortar' installation can take over two years to design and build and often by the time the facility is ready to be commissioned, the needs of the organisation have changed and the installation is no longer fit for purpose.
The challenge is to correctly estimate the ideal size of the installation without over-sizing it, exceeding costs or under-sizing and delivering a sub-standard solution to the business.
The dilemma is that once the traditional data center is built, it is difficult to move so extending the physical size of the installation comes at a prohibitive cost.
Datapod's modular system incorporates award winning data center design and cutting edge mechanical and electrical engineering so organisations can modify their infrastructure according to evolving requirements.
Datapod's modular data center components include critical site infrastructure such as, modular generators and chillers as well as deployment services. The modular approach enables Datapod to provide a complete infrastructure solution.
By enabling customers to deploy when they like, where they like, and for how long they like, the Datapod System offers performance superior to that of a 'bricks and mortar' data center facility with faster deployment at a more cost-effective price point.
The innovative design allows for rapid factory assembly and deployment on any prepared site producing an operational, optimised IT environment in just a few months. Better still, the Datapod System can easily be extended horizontally or vertically (multi-story) to keep pace with the evolving needs of an organisation.
Not only is it flexible, it is an IT asset that can be moved if necessary.
If an organisation needs to relocate, the Datapod System can move to the new location of business.
If an organisation has a need to set up a temporary facility in new location the Datapod System's design can keep IT assets safe and clean, even in the harshest outdoor environments.
If the challenge is no available power or cooling onsite, the Utilitypod can provide power and cooling via its integrated diesel generator and chillers.
The Datapod System is a purpose built IT facility that incorporates all of the benefits of high density ready Hot Aisle Containment System whilst also containing the Cold Aisle as well – a dual benefit further enhancing the cooling performance of the Datapod System.
Example data center customer requirement
Three Tier Structure (Modular)
Outside – mild steel
Inside – stainless steel, anti-static flooring and walls
Security characteristics of tiered – entry steel safe that provides a faraday cage environment.
IT Infrastructure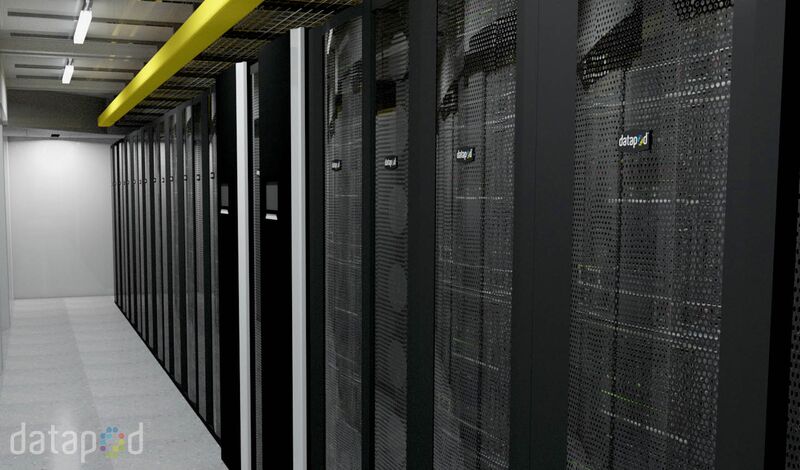 UPS' offer maximum efficiency of >96% at only 10KW load
UPS' configurable in N+1, 2N or 2N+1 configurations
Modular, hot-scalable power distribution with branch circuit monitoring
Inrow® coolers offer >30KW cooling capacity at only
1.4KW fan power draw
Benefit of hot and cold aisle containment system (HACS + CACS) ensures maximum cooling efficiency by capturing heat at its source, eliminating air-mixing and containing the treated air inside the Datapod, Data Center Expert Tools – Monitoring Management and Control.
Data Center Facility Infrastructure
LED lighting
Cardax access control with CCTV security system
Fire detection and suppression (gas) with overpressure release, emergency lighting and signage
Outdoor air-filtration, humidification and humidification.
For more information about Datapod download the Datapod White Paper 'Data Center 2.0 The Perfect Storm Has Arrived' or contact us today.