This is the final post in our Datapod data center consultancy and services blog series.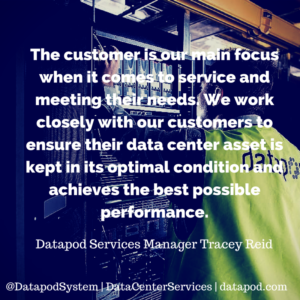 In this blog post we look at the following Datapod services:
Integrated Systems Testing
On Site Support and Management
The Datapod Integrated Systems Testing service is a key part of an overall Datapod System and is an essential part of the scalable modular data center system.


During this service certified Datapod staff individually check every component of the complete functioning Datapod System, ensuring that all components operate correctly as an integrated data center.
This service provides the customer with the assurance that the Datapod System has been designed and built according to Datapod standards and specifications as well as contract conditions.
Datapod staff perform a number of processes and activities during the Datapod Start- Integrated Systems Testing service including but not limited to testing UPS, cooling, power, monitoring and fire prevention systems as well as running a number of other live tests.
The Datapod Integrated Systems Test is a compulsory service required for all Datapod installation projects.
Datapod Data Center On Site Support
Datapod also offers a number of ongoing support and maintenance services to ensure the longevity of the data center infrastructure.
Customers can tailor ongoing maintenance and support services to meet their ongoing needs and budget requirements, from remedial repairs to scheduled preventive maintenance as well as on ongoing management services.
On Site Remedial Services
authorized personnel are dispatched to provide repairs in the event of a problem. Parts, labour and travel costs (remote and major metro areas) are included.
Datapod offers three levels of on site service:
Immediate call out*
Four hour*
Next business day
(* Not available in some locations).
The immediate and four hour On Site Service is available on a 7×24 basis, including weekends and holidays. (Not available in all locations. Please consult with Datapod Manager for coverage in your area).

As part of the on site support services an annual preventive maintenance is scheduled at a time convenient to the customer and provides a comprehensive visual, environmental and electronic inspection of the Datapod System to ensure that components are performing to defined technical and environmental specifications.
The on site support service is included in any Datapod System component for a period of one year, extendable on an annual basis.
Datapod Camouflaging and Branding Service
Need to extend your brand to include your data center infrastructure or do you need a special camouflage?
Datapod offers a camouflaging and branding service as an optional extra to any pod deployment.
This service allows the customer to select a custom specific exterior paint service to hide or blend the data center system into its new environment.
Customers may choose from a traditional 'battlefield' multi-coloured camouflaging or design scheme to match their brand, workplace or campus environment.
Datapod Service Manager Tracey Reid said, "The customer is our main focus when it comes to service and meeting their needs. We work closely with our customers to ensure their data center asset is kept in its optimal condition and achieves the best possible performance."
Contact Datapod to find out more about their ongoing maintenance and on site services.

Go to other blog posts in this series: