An independent safety assessment company has recognized Datapod as a leader in safety.
The independent assessment was conducted by Proteus EPCM Engineers in a recent data center deployment for a global mining company in West Australian.
The assessment illustrated a commitment to safety with Datapod compliant or exceeding compliance in all but one category. There were over 150 areas covered in the report.
The report looked at a number of criteria including, work area condition, working with compressed gas, fire prevention, working at height, use and condition of tools and equipment, working with chemicals, material storage, personal protective equipment, working on ladders and elevated platforms as well as first aid, environmental management, project documentation, use of rigging and cranage, and general permits.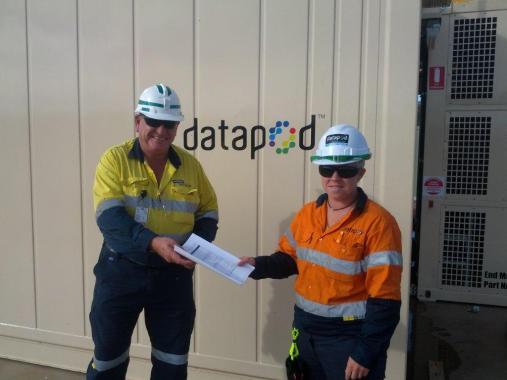 Mine sites are hazardous by nature and a place where safety is paramount and Datapod's Occupational, Health, Safety and Environment Manager Shontelle Hellyer (Pictured above) said this report is confirmation of Datapod's commitment to this area.
Ms Hellyer said, "This independent report is important to Datapod and our customers, as it shows we take safety very seriously when assembling and deploying our data centers. It also demonstrates our experience when we deploy data centers, we ensure our processes are in place before commencement of work on any site we work on, and this helps de-risk projects for our customers."
Datapod believes their experience and high safety standards in the mining sector is a blue print for safely deploying modular data centers for other sectors, including the oil and petroleum industry as well as for the education, health and government sectors.
"For each Datapod deployment we implement a safety overview, site safety plan, risk assessment control, safety work method statements and an issues register which records any safety incidents from the job. Safe workplaces don't just happen – they're created. Our commitment to safety gives our employees peace of mind and our customers confidence knowing safety and environment are a top priority," Ms Hellyer said.