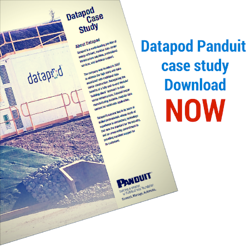 Datapod's world –leading approach to modular data center construction and deployment has been recognized in a new case study released by global partner Panduit.
The data center case study outlines the how Datapod and Panduit work together to deliver a world class modular data center and how Panduit's range of quality high-density QuickNet™ copper and fiber optic cabling and other management systems are used by Datapod to deliver a factory constructed data center product.
Datapod Director Adam Smith said, "It is wonderful to work with a globally recognised company who understand our vision for quality and the goals we are trying to achieve in the modular data center industry. To be recognized by Panduit in this case study is a tangible result of Datapod's dedication to quality and delivering excellent customer outcomes."
"We have worked with Panduit for a number of years now and we know that Panduit will continue to provide a quality solution, along with guidance and technological expertise to help us integrate new functionality to meet our customer's changing needs. We have confidence in Panduit products and its people," Mr Smith said.
Panduit is a trusted advisor who works with organisation to address the most critical business challenges within data center environments.
Panduit has a proven reputation for quality and technology leadership coupled with a robust ecosystem of partners across the world enabling Panduit to deliver comprehensive solutions that unify physical infrastructure to help customers achieve their operational and financial goals.