Datapod Marketing and Communications Manager Gordon Watson will be reaching for the clouds in the Skypoint Sea to Sky Q1 Stair Challenge on 22 February 2015.
The Skypoint Sea to Sky Stair Challenge is one of Australia's toughest stair climb challenges with participants scaling 77 floors or 1820 steps up Australia's tallest residential building, with the winner completing the challenge in the quickest time.
Datapod is renowned internationally for their modular data center infrastructure and provisioning private cloud platforms for their customers, however this time Gordon is reaching for a cloud of a different kind and all to raise money for homeless services organisation Rosies Friends on the Streets.
Mr Watson said, "The winners are expected to complete the course in around seven minutes, however, my goal is to come in under 15 minutes in what will be my first stair climb challenge."
Participants are also encouraged to raise money for the local Rosies Friends on the Streets charity. Rosies provide services to people currently experiencing homelessness.
Gordon adds, "I am encouraging my friends and family to make a donation – whether it is small or large all donations will be very welcome, especially by those currently experiencing homelessness on Australia's Gold Coast."
Donations can be made to Gordon's effort at charity fundraising website Everyday Hero.
Gordon said part of his training is stair climbing at his favourite beach.
"The stairs at Currumbin are a great spot to train, the stunning scenery helps divert the mind and takes away the burning pain." Gordon said.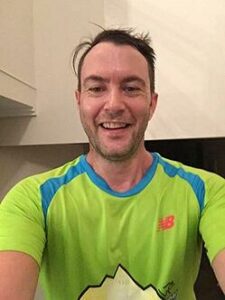 Learn more about Datapod's modular data center infrastructure and private cloud solutions. https://www.datapod.com.au/
For more information about Skypoint Sea to Sky Stair Challenge 2015.
Pictured top right: Gordon looking a little dishevelled after a training session at Currumbin Stairs.