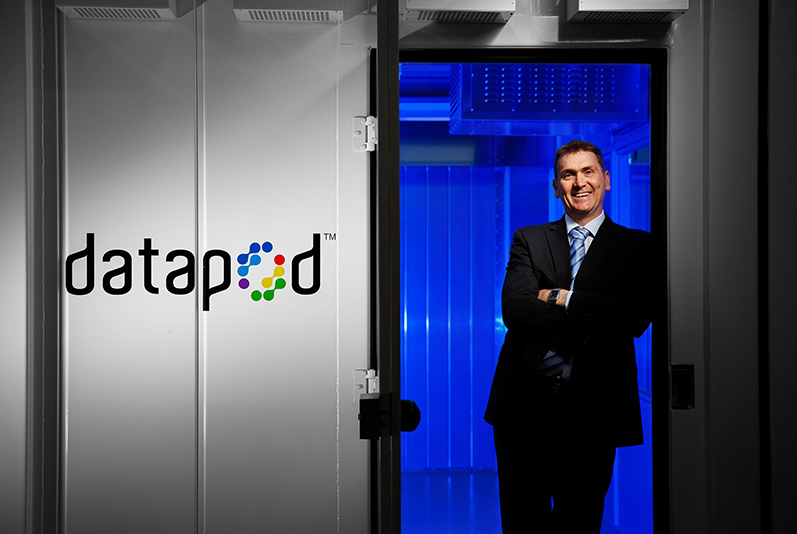 Datapod is pleased to announce that Managing Director and Chief Architect Scott Carr (pictured right) has been named a Regional nominee in the 2014 EY Entrepreneur of the Year awards.
Mr Carr joins other outstanding entrepreneurs from across Australia who will compete for the ultimate prize of being named 2014 Australian EY Entrepreneur of the Year.
An engineer by trade, Mr Carr knew there had to be a better way of addressing the high costs and risks associated with traditional data center construction projects. After establishing Datapod in 2007 and mortgaging the family home in 2008, Mr Carr launched Datapod – a modular data center system.
Datapod provides physical modular data center infrastructure to support advanced cloud computing environments. The Datapod System allows for rapid deployment as it is shipped to site fully completed, tested and ready for operation.
In recent industry research the global modular data center market is expected to grow to $40.41 billion by 2018, at an estimated CAGR of 37.41% from 2013 to 2018 on the back of technology becoming more ubiquitous and the need for more scalable and flexible data center infrastructure.
Mr Carr said, "It is a great honour to be nominated in these awards. The modularization of the data center market is similar to how Henry Ford standardized the car industry. This standardization allows Datapod to provide data center infrastructure that is more affordable, more energy efficient and drives better outcomes for our customers. You could say we are becoming the CIO's best friend."
Mr Carr will join his fellow nominees representing the ACT and NSW at the regional awards ceremony on 7 August 2014 and if successful will go onto the national award ceremony in November 2014. The National Award winner will go on to represent Australia at an international award ceremony in Monaco in 2015.
Further information about the EY Entrepreneur of the Year program can be found at ey.com/au and for information about Datapod visit www.datapod.com
About EY Entrepreneur of the Year
EY Entrepreneur Of The Year™ is the world's most prestigious business award for entrepreneurs. The unique award makes a difference through the way it encourages entrepreneurial activity among those with potential, and recognizes the contribution of people who inspire others with their vision, leadership and achievement. As the first and only truly global award of its kind, Entrepreneur of the Year celebrates those who are building and leading successful, growing and dynamic businesses, recognizing them through regional, national and global awards programs in more than 145 cities in over 60 countries.
The EY Entrepreneur of the Year program, launched in Australia in 2001, is one of the country's leading business awards programs. It has so far recognised over 1,200 leading Australians for their entrepreneurial business success and each year, through its global program, acknowledges thousands of entrepreneurs worldwide. Founded and produced by EY, the program in Australia is sponsored by Commonwealth Bank (Principal sponsor), Qantas (Sponsor) and Austrade (Supporter).