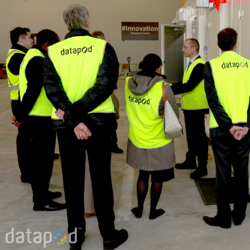 During the month of July modular data center maker, Datapod, opened their factory doors to allow industry representatives to have a close up look at the unique system.
IT Directors, Data Center Mangers and Project Officers from a number of industries were shown through a modular data center system that is ready for shipment.
The popular tours included a live power switching demonstration where the modular data center system switched from mains power to utility backup power, as well as testing UPS systems, and inspecting fire suppression infrastructure, hot and cold aisle containment systems and monitoring equipment.
The tour was conducted by Datapod Director Adam Smith and Services Manager Tracey Reid.
Adam Smith said, "The factory tours enable Datapod customers to come in and test drive their next data center, for IT executives it really is the equivalent of visiting a car dealer and taking a vehicle for a spin, to see how it handles."
"Customers can see first-hand how the Lego design of the Datapod System can deliver a quality enterprise grade data center solution as well as being able to see the attention to detail in the design and construction. For some customers it really is an epiphany."
A Representative from the Australian Government said, "The Datapod System is a state-of-the-art data center system. This tour was a chance to add clarity to what a modular data center solution can bring to the IT of a government department."
To access information on upcoming tours and other news sign up for our eUpdates.

For more information about the Datapod System download the Datapod White Paper "Data center 2.0 the perfect storm has arrived"