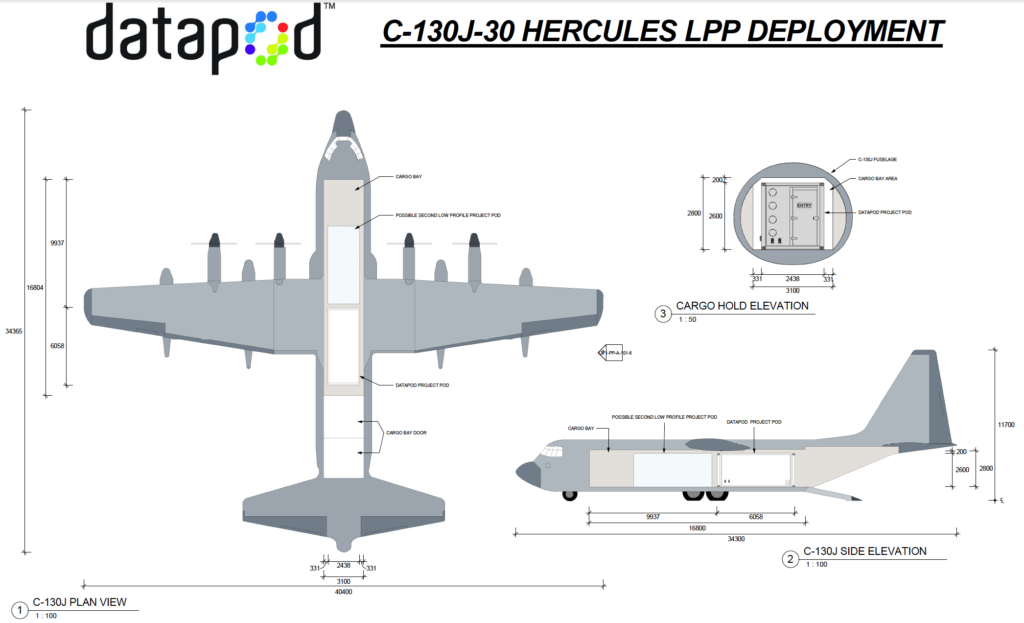 Canberra, January 28, 2016: Modular data center manufacturer Datapod has released a low-profile single module 'all-in-one' system that can be flown to it's deployment site in the ubiquitous 'Herc'. The Lockheed Martin C-130J-30 Hercules is the most commonly used logistics transport aircraft in the world, in use with the UN, and most western governments/armed forces.
Canberra-headquartered Datapod has recognized the demand for an 'all-in-one' modular data center system. The 'Projectpod' range of single module units provides users with between 4 and 7 IT/Communications racks, with higher density versions supported by externally mounted heat-exchange condenser units to ensure loads of up to 15KW per rack can be accommodated.
LOW-DENSITY RACKS IN A LOW-PROFILE MODULE
In an effort to reduce the overall form-factor of the module which would allow the system to be flown in the C-130J Hercules, Datapod have engineered a reduced-height system with in-built airconditioning module. Capable of accommodating 4 low-density racks of ICT equipment, and featuring a separate UPS rack, with internal air-lock facility to maintain the cleanliness of the IT environment, the Low-Profile Projectpod is expected to fulfil the needs of organizations requiring rapid deployability in remote areas. Whether it be in support of humanitarian work, in a military theater, or research studies in the field, localized IT capacity is now considerably simpler to deploy.