Go behind the scenes
This is your chance to take an exclusive 'behind the scenes' look into the revolutionary modular Datapod System and learn why industry experts are likening this energy efficient disruptive technology as the data centre industry's Model-T Ford moment.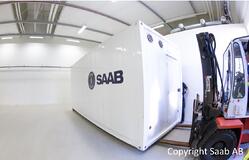 The behind the scenes tour will be hosted by Datapod Director and Chief Architect Scott Carr and Director of Operations Adam Smith and they will provide visitors with an exclusive look at the technologies contained in each Datapod module and learn how the innovative design has already assisted organisations around the world to reduce their carbon emissions associated data centre energy usage.
Visitors will be treated to a 3D video experience as well as a hands-on walk through of a Datapod System that is currently in production. Better still you will get a birds-eye insight into an emerging industry that is predicted to be worth over $40 Billion by 2018.
Pre tour:
Visit the Datapod video library and see how modular data centres are scalable and flexible by design and how new modules can be added to existing modules just like Lego.
Download the Datapod iPad App and build your own modular data centre.
Download a QR Code scanner to your favourite device.
Refreshments will be served on arrival.
About TEDxAdventures Canberra
TEDxAdventures Canberra will take place alongside TEDxCanberra 2014, from 1 to 10 October this year. TEDxAdventures are an opportunity to further enrich your TEDxCanberra experience by taking part in on-site and hands-on interactive experiences to explore what we're referring to as Ideas in action.
Adventures are free and open to the public (with limited spaces) – you don't need to be coming to TEDxCanberra itself.