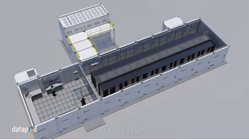 This video from Datapod demonstrates the chilled water (CW) and direct expansion (DX) configurations in our modular data center system.
The video also shows how Datapod can achieve both designs as well as the versatility of the system with added modules creating the entry vestibule and storage areas.
The system's CW configuration is better suited to a high density system, whereas the DX configuration is better suited to a low destiny.
NB: To achieve the same IT load as the CW system using a DX system, the DX system would require a larger construction foot print. To design your own modular data center system including choosing the type of cooling and density levels download the Datapod App.
The video also demonstrates the flexibility and scalability of the Datapod System.
If you would like to learn more about the Datapod System download the Datapod Components Guide.

To speak to a Datapod consultant visit our contact page.