5 things CIOs look for in a data center
In today's world, unfettered and uninterrupted access to data and applications is a mission-critical part of business.
As CIOs consider how to address their enterprise data center needs, the discussion often shifts between building a traditional data center customized to the c
ompany's needs and specifications, or turning to an outsourced provider that might offer lower costs.
But those two options are not the only choices available to the CIO. Modular data center construction can fill the needs for many businesses.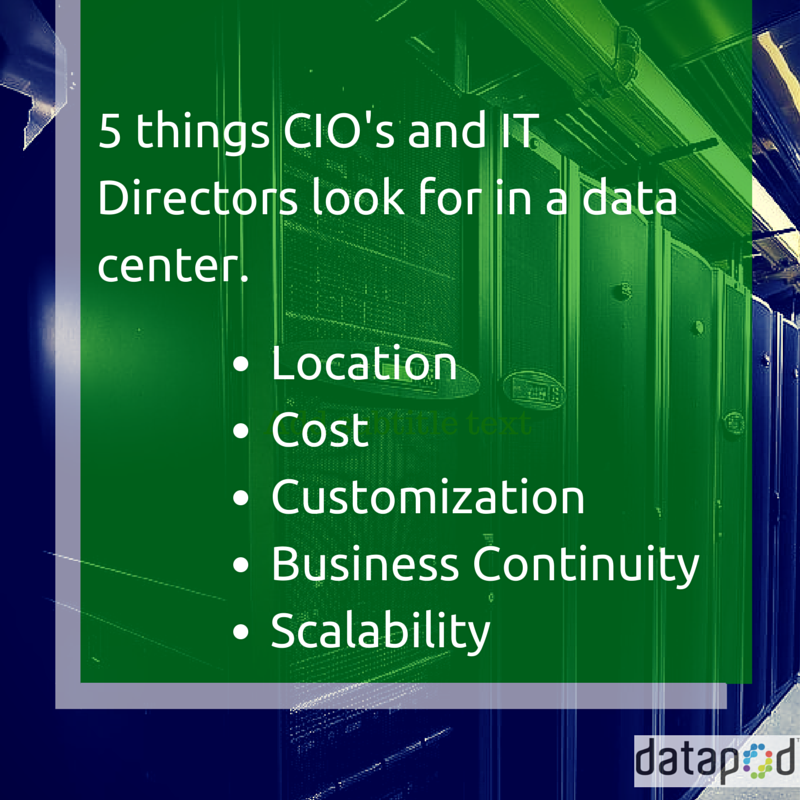 To understand how, let's walk through the 5 things CIO's consider when they look for a data center:
Location. As is the case in real estate, the cost of a data center site depends in part on where it is located. In identifying potential data center locations, CIOs will consider the cost per square foot, as well as the access to cheap and reliable electricity. With the cost of power increasing, Martyn Boxall, who manages the Telefonica O2's data center, told Computer Weekly that data center operators will look to move where the power is cheapest. That brings up the next thing that CIOs look for in a data center.

Cost. Electricity is typically the most expensive recurring expense of operating a data center. But the cost of power is not the only financial concern on the CIO's mind. Moore's law may be boosting the processing power of computer equipment, but corporate IT budgets do not grow exponentially. If the enterprise plans to build its own data center, the CIO must be aware of the costs of equipment and construction involved in traditional data center construction.

Customization. A company that builds its own data center can customize that facility to its own specific needs. But the drawback of that customization is expense, as well as the inevitable changing of business and data needs. Those changes can make it difficult to adjust if the company is already locked into infrastructure. That's a tough problem when the enterprise steers into particularly rough economic waters. In tough times, the IT budget is often cut and the refresh cycle for equipment is extended, leaving the company sitting on antiquated hardware as Esther Shein explained in a recent article in Computerworld.

Business continuity. Any network downtime affects the ability of the enterprise to conduct business, and adds to cost. In business, time is money. The CIO needs to make sure that the rest of the enterprise can access needed information and applications on demand, and that there is redundancy in the event of any kind business interruption.

Scalability. A healthy business is a growing one. CIOs need IT infrastructure that can scale with that growth. But even the best business forecasts are at best, educated estimates. That can make it difficult to project the data capacity that the enterprise needs, as well as the cost of that IT spend.
The answer to many of the questions that CIOs have about data centers can be found in modular data center design. Businesses always look at the bottom line and cost is the first place where modular data centers stand out. According to research from DCD Intelligence, building a modular data center can cost up to 14 percent less than constructing a traditional data center of comparable capacity, when all costs are factored in.
The standardization of modular components means that the construction process can be conducted more quickly compared to traditional data center construction. Modular data centers are also easier to build. Converged infrastructure combines computing, storage and networking into a pool of shared resources that are implemented in a "plug-and-play" fashion, said Datapod Director Adam Smith. That means that this business critical infrastructure can be set up and operational in "hours or days, not weeks or months, as with traditional builds," Mr Smith said. In addition to faster set up, modular data centers offer more energy-efficient operation.
Standardization of components means that modular data centers are easy to manage, which means that there will be no need to keep highly skilled staff on site, Kelly Quinn, research manager at IDC's Datacenter Trends and Strategies Group told FedTech Magazine. If necessary, these centers can even be managed remotely.
The modular nature of the construction means that these centers are easily scalable. As an enterprise's data needs change, these prefabricated components can be taken apart, assembled in a different configuration, or even moved to a different site. The ease of constructing new data center sites means that it's easy to achieve the needed redundancy to ensure business continuity in the face of possible network interruptions. That's what the U.S. Department of Veteran's Affairs is doing.
"If we have another disaster such as a major earthquake or tornado, and one of our data centers in the affected area fails, the disaster recovery center may not be able to handle the failover load for as long as it needs to," the VA's Christopher Shorter told FedTech Magazine. "We are investigating modular data centers as a way to handle that."
Modular data centers give the enterprise a flexible way to grow as the enterprise's business and data needs change. That ability to be nimble and change quickly will enable a company to be more responsive to its own customers. When a company can keep its attention on its own business rather than its IT infrastructure, it can focus on becoming a more successful and profitable business.
To learn more about the Datapod approach to modular data centers download our comprehensive Modular Data Center White Paper or pre-register for our upcoming Data Center Efficiency and Sustainability White Paper.