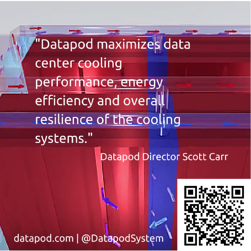 Cooling is essential to an energy efficient data center.
Watch this video to see how Datapod maximizes data center cooling performance, energy efficiency and overall resilience of the cooling systems.
Green Grid recently published survey results on the use of natural or free cooling in data centers and the survey found that half of respondents are now using natural cooling to save on energy costs and 25% are considering adopting the free cooling data center methods in the future.
To learn more about the Datapod System download the Datapod Systems Guide.

Download the Datapod Panduit Case Study