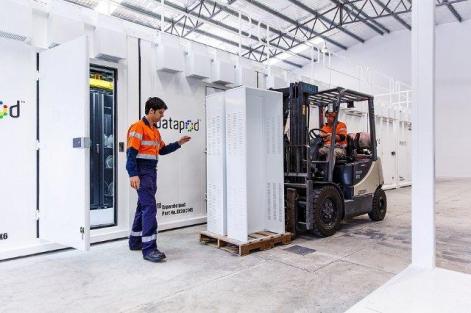 Established in 2007, Datapod meets the growing demand for expert data center engineering solutions in the global market.
The Datapod System was an international Australian Design Award Winner in 2010 not just for its innovative design, but also because of the Datapod Systems green data center approach and attention to energy efficient design.
Datapod is a system of modular data centre components that can be mass manufactured, factory tested and rapidly deployed to meet the growing demand for high performance data centre infrastructure worldwide.
The Datapod technology features:
Use of best-practices air management, such as strict hot aisle/cold aisle configuration – Inrow coolers offer >30KW cooling capacity at only 1.4KW fan power draw,
Efficient placement of Utilitypods means power and cooling is closer to the load delivering better performance and efficiency,
Medium – high density steel outer Datapod shell (upgradable to United States Military specifications, if required), with polyurethane insulation and steeless steel interior with anti-static flooring and walls,
UPS's offer maximum efficiency of 96% at only 10KW load and configurable in N+1, 2N or 2N + 1
A tiered entry steel safe provides the security of a full farday cage environment,
Cardax access control with CCTV security system,
LED lighting to maximise energy efficiency,
Fire detection and suppression (gas) with over pressure release, emergency lighting and signage
A design with can be assembled, and disassembled and relocated as required,
Disaster mitigation features, like blast, flood fire, earthquake, rain and lightning resistance,
Factory Acceptance Tested (FAT) with the customer (if required) before shipment and onsite assembly.
The Datapod System significantly reduces capital cost, mitigates construction project risk and reduces the environmental impact of data center facilities.
As the Datapod features show, the system is engineered for optimum energy efficiency, consuming up to 50 per cent less energy than a tradition bricks and mortar data center.
Datapod provides a complete turn-key solution, as all site infrastructure like chillers and generators are incorporated into the site infrastructure.
The Datapod System is a leading data center 2.0 technology and can also augment existing data centers or provide portable back up systems.
Learn more about Datapod visit our data center resources.