Understanding the differences between data center technology is fundamental to long term planning. The Datapod modular data center comparison and industry example below are taken from the Datapod white paper 'Data Center 2.0 'The Perfect Storm Has Arrived'.
The table shown in figure 2.0 compares the Datapod System to modern non-modular data centers. The green notations indicate that the data center meets the competency.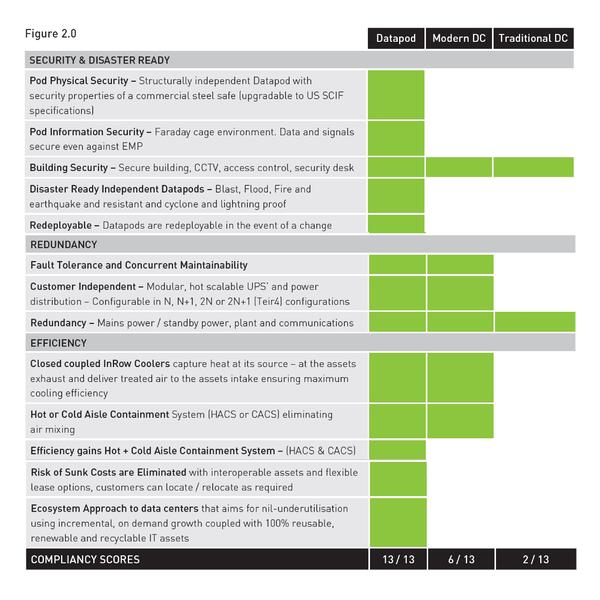 Example – Modular data center use in the mining sector
The mining sector is vulnerable to the slightest fluctuations in the global economy, for example a slight but long lasting exchange rate difference can put pressure on site profitability and the longer term operation.
The deployment of an onsite Data Center 2.0 technology enables mining companies to provide a foundation to drive efficiency and productivity gains. The onsite benefits of the Datapod System include:
CAPEX and OPEX cost saving through standardised and efficient design
Onsite reliability through factory acceptance tested components and a rugged cyclone proof, all terrain design
Reduced risk for onsite safety incidents through rapid onsite assembly and leveraging from class leading onsite OHSE workplace practices
Increased productivity by deploying modular infrastructure and enabling onsite, on demand computers to analyse geological and geospatial data, and to help process large amounts of data produced from Smart Grid technologies
Greater flexibility to deploy and redeploy data center infrastructure to provide IT infrastructure for short or medium term projects.
Interesting Fact:
A recent study by the Australian National Institute of Economic and Industry Research (NEIR)
found significant differences in the market capitalization between digital leaders and those who lagged across the sectors.
A Mining company could have a market capitalization worth $130 billion by 2025 by engaging in the digital economy, compared to $38 billion for digital laggers; a difference of $92 billion.