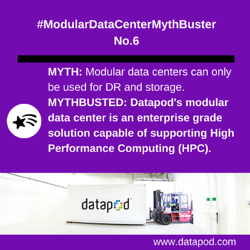 Innovative modular data center manufacturer, Datapod, has recently started releasing infographics designed to dispel common myths about modular data centers.
Leveraging from the hashtag #ModularDataCenterMythBuster the infographics are being released by Datapod through their popular social media channels.
Datapod's Marketing and Communications Manager Mr Gordon Watson says they have released six in the mythbuster series so far with more to come throughout the year.
Mr Watson said, "Research shows 90% of information transmitted to the brain is visual and graphic content is far more engaging for customers, so where we are shifting our focus to providing important content in a more visually engaging way and the infographic mythbuster series is just one way we are achieving that outcome."
Mr Watson explains the mythbuster series was designed to breakdown misconceptions about the modular data center industry as a whole but also show how Datapod is a leading solution within the modular data center category.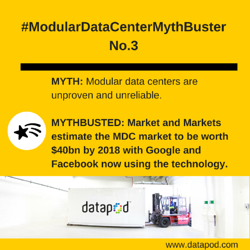 "Even though 2014 was a real break-through in the acceptance of the modular data center solutions, there are still organisations that hold onto an out-of-date understanding, and it is these organisations we are hoping to reach by using infographics through our social media platforms. For example there are still people in the market that think a modular data center is a data center built inside a rusty old shipping container, when in fact the opposite is true. In Datapod's case our modular data centers are purpose built to international ISO standards and shipping container dimensions to enable logistical and other efficiences" Mr Watson said.
The colour palette for the series leverages from the Datapod corporate colours contained in the Datapod 'stamp' and features the Datapod website on each graphic, so no matter what platform the graphic is found on customers know where they can go for further information.
As well as the infographics, Datapod also has a number of online videos which demonstrate the customer benefits of the modular data center system and the various configurations the system can form.
Mr Watson said, "With around 50% of customers viewing video content on their mobiles our video series is helping us tap into this trend and also means, in a small way, Datapod is part of the 700 YouTube videos are shared on Twitter every minute."
The Datapod video library and other resources can be found here.
To view the series of mythbuster infographics simply follow Datapod on social media, including LinkedIn, Facebook, Pinterest, Twitter, YouTube, Vimeo and Google+.