Datapod modular data center components
The Datapod System is an award-winning end-to-end data center architecture designed for the broadest range of markets and applications.
The Datapod System overcomes the main barriers to successfully deploying a new server room or data center and provides a complete set of site-infrastructure and service requirements.
The System is a custom scalable modular data center system – a data center designed into the form-factor of an ISO module in order to leverage the global transport and logistics industry.
A Datapod System can be made up from any number or the following modules to meet any data center requirement: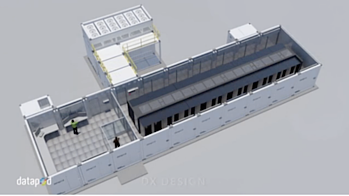 For product details including, power architecture, rack width, density, cooling, and redundancy and inclusions in each of the various Datapod data hall modules download the Datapod Components Guide.