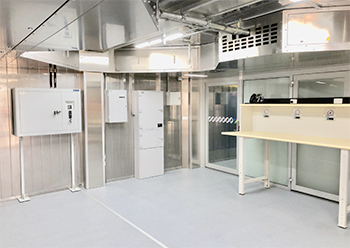 EntryPod
The Entrypod is an optional module and provides a data center clean room and administration space.
The like other Datapod modules the Entrypod is a 20' ISO-standard fully insulated containerized data center incorporating Faraday Cage properties.
The Entrypod provides a separate, secure pre-conditioned environment with glass wall separation from the datahall, and can be fitted with UPS backed general purpose outlets for power, and secure data outlets.
A networked Electronic Access Control System (EACS) can be fitted at the door to the entry into the data hall modules (Expanderpods and Starterpods).
The Entrypod is design and constructed so two or more modules can be fitted together to enable a larger clean space or administration area.