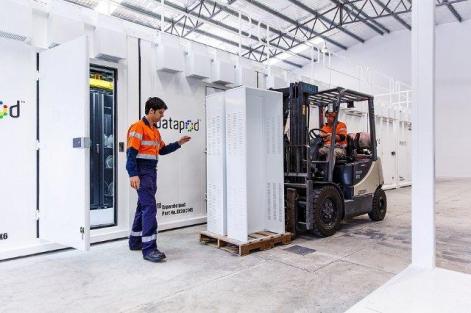 Datapod has achieved a full year with no lost time injuries (LTI's).
It reached this milestone on 26 March 2014 and marks a continuing path of dedication to safety by the company.
Datapod Managing Director Scott Carr recently recognised all staff associated in manufacturing, deployment and through-life servicing of Datapod Systems in the field.
"This achievement reflects the commitment, the behaviours and culture of a workforce, that has safety at the heart of their work environment," Mr Carr said.
"This result covers our two manufacturing operations in the ACT, Australia, as well as the teams that deploy our leading edge modular data center infrastructure to remote and urban locations in Europe, Asia, Oceania and soon to North and South America, the Middle East and Africa," said Mr Carr.
"It is an outstanding result for Datapod and the modular data center industry as a whole. The modular nature of the Datapod data center system means processes can be streamlined and made safer because of the factory environment." said Mr Carr.
The standardisation of the Datapod data center system also means Datapod takes significantly less time on site, further reducing the risk of workplace accidents.
Datapod Occupational, Health, Safety and Environment Manager Shontelle Hellyer believes results like this raise the bar in terms of Datapod's commitment to social responsibility and being an employer of choice.
"Datapod continues to help deliver against ever-increasing community expectations. We are continually looking at ways of improving our workplaces practices. For Datapod it is about continually meeting and exceeding staff and customer outcomes," said Ms Hellyer.
"Our systems and processes have continually matured since the company was established in 2007. Datapod has grow to become a fully ISO certified and trusted leader in safety in the modular industry," said Ms Hellyer.