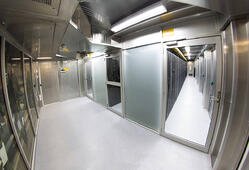 The Australian Government is pressing ahead with metadata retention laws similar to those introduced by the United Kingdom last year and Datapod is poised to be a key solution.
The result of the new laws will mean more investment will be required to allow for the retention of metadata for a two-year period.
There has been speculation regarding the costs of retaining metadata and the possible effects it could have on the operations of telecommunications organisations as well as the end consumer.
The Sydney Morning Herald has reported the Parliamentary Joint Committee on Intelligence and Security has been advised the cost will be about $300m.
With the expected infrastructure costs expected to be in the hundreds of millions, Datapod is poised to offer a scalable, flexible that is also a cost effective data centre solution, with the added bonus of being a local Australian company. In addition, the Datapod System can be deployed within a much reduced time frame and could be used to assist organisations adopt quickly to the new laws. (View a time lapse video of a 72 hour deployment.)
The scalable nature of the modular data centre system also means costs can be spread over an extended period, for example instead of building a bricks and mortar facility for a higher cost and from one budget, a modular system can be deployed and added to over a number of years and from more than one budget period.
Datapod Director Adam Smith said, "With the proposed introduction of the new metadata retention laws, Datapod would be ready to deliver modular data centre solutions to the telecommunications sector."
"Datapod is experienced and we have delivered data centre solutions for a number of high profile international companies and we would welcome the opportunity to offer cost effective solutions in the local Australian market so telecommunications companies can adapt quickly to these new laws – should they be introduced," added Mr Smith.
Importantly, Datapod is a trusted supplier of modular data centre infrastructure. Recently, the Department of Finance appointed Datapod to the Data Centre Facilities Supplies Panel and can be considered by Australian Government Departments and Agencies for the provision of data centre facilities and associated infrastructure as well as being ISO certified for Quality, Environment Management Systems and Occupational Health and Safety.