Datapod's modular data center solution reduces operational and downtime costs and has attracted CIOs from around the Asia-Pacific at the CIO Summit in Hong Kong.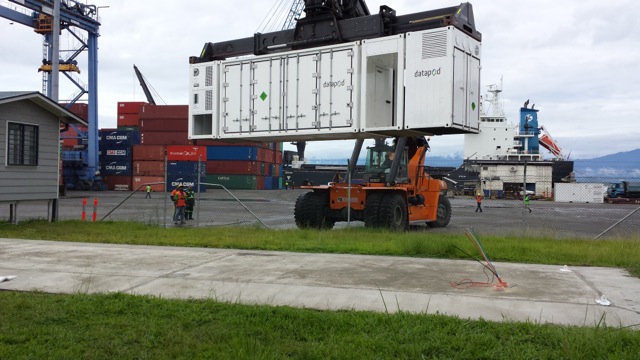 An essential part of any modern CIO's role is to plan their company's information disaster recovery process.
It is a task worth committing both time and expenditure to, as a well-prepared and tested data recovery plan is invaluable if the worst happens.
According to Fortune 500 report 59% of companies experience 1.6 hours of downtime per week, which could potenially lead to a loss of $46 million annually, which means getting the balance right between redundancy and downtime is critical to productivity and profitability. (Pictured right: A Datapod module gets lifted into place for a busy South Asian port).
Datapod's modular approach (watch a short video on the modular approach) to data center design enables customers to easily add in extra redundancy to reduce the chance of a downtime event.
Thankfully, the cost of data center construction has reduced considerably in recent years and CIO's who are gathering in Hong Kong for the CIO Summit 2013 from 23-26 September will have the opportunity to talk with us about how Datapod's modular data centers are enabling CIO's to reduce operating costs without diminishing quality outcomes.
Savvy CIOs are now finding that by keeping up to date with the latest data center systems they are able to implement first-class data recovery solutions while coming in under budget for the project.
Cutting edge, modular data center systems, such as those offered by award-winning industry specialist Datapod, use a clever combination of leading engineering methods and prefabrication, in order to substantially reduce the cost of data center construction.
This proven method of cost reduction has the added advantage of also reducing risk, as standardisation of quality outcomes and factory testing combine to ensure enhanced system reliability when compared with brick and mortar constructions.
Datapod's modular data center has a number of other proven cost advantages over more traditional alternatives. Energy dependence is minimized, servicing costs are reduced and different functional modules can be deployed in line with a company's needs, rather than all at once.
The availability of such high quality yet budget friendly solutions has opened up the usage of modular data centers to new sectors in a range of industries.
The mining, petroleum and education sectors have shown particular interest in data centers of late, attracted by the proven cost reductions that industry leading companies, such as Datapod have been able to achieve.
For years CIOs have struggled with the cost/benefit analysis of if and when they can afford to implement a data center for their company.
Finally, through factory-tested, enterprise grade performance in any location, enhanced power efficiency and operational cost savings, Datapod is proving that CIOs can achieve their data security goals and reduce risk, at the same time as minimizing expenditure.