Modular data center solutions are renowned for providing a turnkey data hall solution within a short time frame.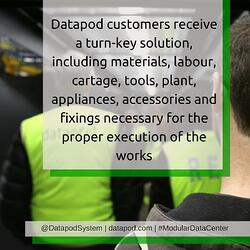 As a leading specialist, Datapod's scope of work includes the supply and installation of a pre-configured data center solution including the detailed design, manufacture, supply, installation, co-ordination, testing, commissioning and maintenance of the system and associated services.
Datapod customers receive a turnkey solution, including materials, labour, cartage, tools, plant, appliances, accessories and fixings necessary for the proper execution of the works, together with all minor and incidental works.
The modular solution is constructed to comply with ISO-certification of the external dimensions, weights, capabilities and stacking capacity of 20' and 5' hi-cube containers.
Better still, the modular data hall provides a contiguous space and can be incrementally expanded (added to) through connection of additional modules without interruption to the operations of the data center.
The modular data hall enclosure also features heavy insulation within the ceiling, floors and wall cavities, allowing the system to be located both internally and externally, regardless of climatic conditions and without significant impact on the operation of the facility.
Furthermore, the internal wall surfaces of the modular data hall shell is electrically conductive to release electro-static build-up that could potentially damage IT systems. The internal walls and ceiling are electrically isolated from the external skin of the data hall modules for additional EMI & RFI protection.
The Datapod data hall also incorporates anti-static flooring to form a contiguous span upon connection of the various data hall modules.
Modular data centers provide everything you would expect of a world class facility including fire detection and suppression. The Datapod System provides an integrated detection and gas fire suppression system.
The modular system uses the VESDA LaserFocus control unit, with perforated detection pipes installed within the rear of each of the Inrow cooling units.
A Fire Indicator Panel is installed adjacent to the VESDA system inside the data hall with fire suppression provided by externally with inert gas fire suppressant cylinders, which are configured to discharge into the 'hot-aisle' of the rack configuration.
Components of the fire suppression are housed in a standardized modules in accordance with ISO-certifications for shipping containers with the fire-suppression modules connected to the main data hall as a contiguous part of the overall structure.
If you would like to know more about the other components that make up the Datapod modular data center system download the Datapod Components Guide or speak with a consultant today.