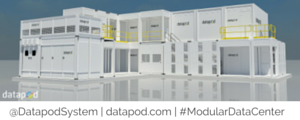 When space for data center infrastructure is at a premium there is only one place to go and that is up and this is one way Datapod is helping customers in urban areas to overcome the challenges of high real estate values.
The modular nature of the Datapod System means capacity can be added to an existing configuration either horizontally or vertically.
This multi-dimensional flexibility means higher property costs associated with additional land purchases are avoided with the Datapod System stackable to a height of three units.
The 'Datapod Stack' design is a popular consideration for colocation as well as single user organisations, as floor space on individual levels can be sectioned off for a particular customer, or as fully integrated, single owned and managed facility.
For organisations using the single ownership and management model the facilities would feature a single data center infrastructure management (DCIM) package and would be deployed to show each level as a unique 'room' or location.
Datapod Director Adam Smith said, "The Datapod System is a truly multi-dimensional data center solution giving our customers unprecedented flexibility and scalability. The integrated and modular attributes of the system enable customers to make use of vertical space in a multi-story data center configuration."
"A multi-story modular data center design is best suited to space constrained locations, such as cities like Singapore or Hong Kong where land-rents are prohibitively high making single-story deployments uncompetitive from a cost standpoint," Mr Smith added.
The savings made on avoiding land purchases are in addition to the savings that can be made through scalability and leveraging from 'pay as you go' lease or buy model, as well as the savings associated with energy efficiency.
Datapod showed a multi-story modular data center design at a recent TEDxCanberra event.
For more information about the Datapod System download the Panduit Datapod case study.