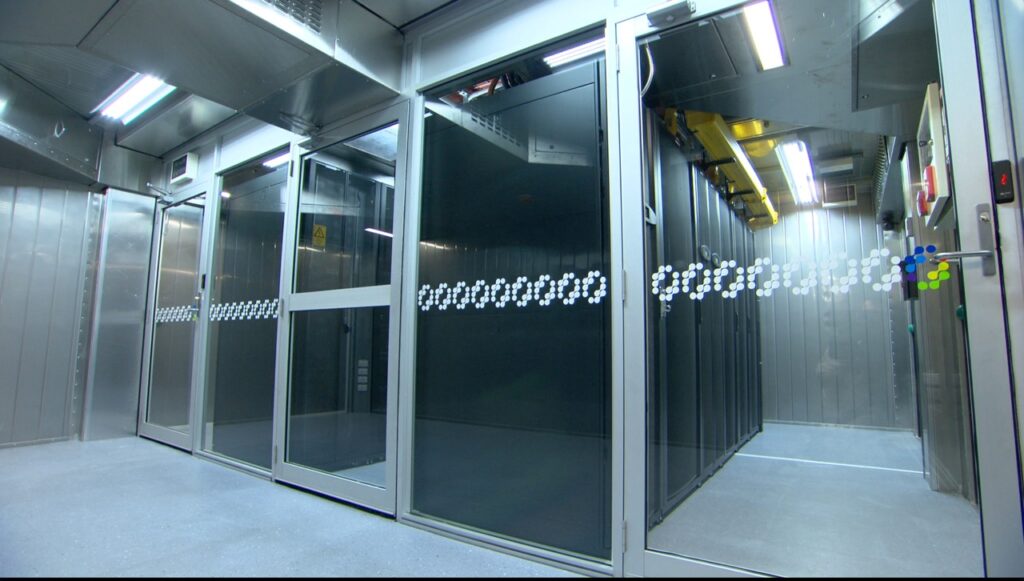 Datapod has provided server room solutions as part of a containerized 'data center in a box' solution or as a fully integrated modular data center system in since 2007.
Datapod has taken the traditional server room and the other components on a traditional data center and combined them into modular components that make the entire data center and server room, more scalable, portable and more energy efficient than ever before.
Typically, a server room is a room used to store, power and operate computer servers and their associated components. This room is part of a data center, which typical houses several physical servers lined up together in different form factors, such as rack mounted, or in tower or blade enclosures. A typical data center might consist of several server rooms, each of which is used for separate applications and services.
The server room is primarily used for executing enterprise applications that require massive computing resources at run-time, such as banking software, search engines or social networking applications.
The Datapod containerized and modular data center systems are designed to provide a continuous and redundant supply of electrical power, backup and or alternate power, lighting and air conditioning, as well as monitoring and fire suppression and other security related services.
Developing a secure and efficient server room is a top priority for IT professionals.
Whether a company needs to overhaul its current server room infrastructure or to design a server room from scratch, a containerized or modular data center system is increasingly being considered as a reliable solution with industry analysts Markets and Markets predicting the modular data center market to be worth $40 billion by 2018.
A server room should function as a carefully controlled environment. The Datapod System can provide this flexibility with any system being able to be configured to meet challenges of various locations, variances in the amount of space required as well as power requirements for the server room.
The Datapod team of experts are trained to assess these factors and dozens more to design a server room perfectly suited to an organisation's needs.
Datapod's emphasis on planning and pre-design services guarantees an organisation will receive optimal server room solutions that fit within their requirements and time frame.
A Datapod System is able to provide customers with a data center server room that has adaptability, agility and manageability.
Data Center Adaptability
Modular design – Increases reliability and adaptability with data center architecture configurable to any IT environment.
Scalable runtime – Additional data center run time can be added without interruption to existing infrastructure.
Standardized components – Offers educes risk of failure, minimizes human error,  lowers mean-time-to-repair (MTTR) and other benefits that come with economies of scale.
Data Center Agility
Easy to install – Innovative Datapod data center design allows for fast, easy deployment – the entire Datapod modular data center system can be assembled in just a few days
Pre-engineered components – The Lego block design means suitable data center configurations can be designed and installed quickly.
Data Center Manageability
Energy cost management – Enables accurate cost analysis of energy use on a kW/h basis, detailed to the rack level
Multi-vendor asset support – Provides support for multiple types of IT assets and hardware platforms.
Network management – Provides proactive power and environmental management via web and/or Simple Network Management Protocol  (SNMP)
One-to-many device control – View, configure and control multiple vendor's IT devices through one console for secure and easy server management.
Datapod has simplified the design and installation of the tradition server room with the 'plug and play' range of containerized and modular data centers systems.