An overwhelming majority of CIO's and executives responsible for data center infrastructure have indicated that modular data centers are part of their data center strategy in a recent Datapod survey.
This startling insight was one of many marketing insights found in the recent annual Datapod Survey which looks into data center uptake and the drivers behind the data center industry.
Datapod Marketing and Communications Manager Gordon Watson said, "The survey is an important tool for us to measure and analyse customer feedback and sentiment. The survey has reinforced a number of assumptions we have made from analysing other research and data we have in house and paints a very exciting future for the modular data center industry."
Mr Watson adds, "It looks like 2014 was a watershed year for modular data centers. With the likes of Google and Facebook now openly using a form of modular data centers for their service delivery, with modular data centers now well and truly accepted as a reliable form of data center infrastructure."
This rang true in the Datapod survey with over 60% of respondents stating a modular data center was part of their data center strategy and with another 28.1% saying it 'maybe' part of their strategy moving forward.
Mr Watson said the reason there has been a ground swell in the number of organisations making decision to include modular data centers in their strategy is because the infrastructure is helping organisations meet their biggest challenges.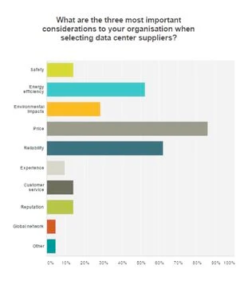 The Datapod survey indicated the biggest challenges facing an organisations data center strategy are controlling costs and stagnating budgets, reliability, as well as environmental impacts and considerations. The Datapod findings are similar to those published earlier this week by leading online publication Search Data Center which suggests 59% per cent of respondents were expecting their budget to remain the same or increase slightly on the previous year.
The survey also revealed, on average, Data Center Executives are expecting to turnover or update their data center every seven years, with a number of respondents nominating three years.
Mr Watson said, "It is much more clear that data center executives are shortening their planning cycles and this is a reflection of industry game changing technologies combined with the relentless surge in customer driven applications requiring organisations to have even more agile ways to managing data."
Datapod continues to be at the forefront of modular data center technology.
To learn more about modular data centers visit the Datapod Resources webpage. The Resources webpage is home to helpful videos, documents, capability statements, the popular modular data center blog plus much more.