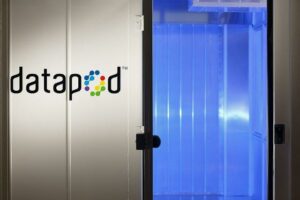 When you buy a Datapod System you are buying from the thought leaders in the modular data center industry.
Purchasing a data center as a factory-manufactured product, as opposed to a typical construction project is a new paradigm, so we have put together an article which illustrates what a modular data center from Datapod consists of.
The Datapod System includes all site infrastructure, components and services required for the provision of the complete modular data center, with the exclusion of preliminary site preparation.
Datapod also offers customers the ability to tailor their system via differing density options, datahall sizes, cooling types and tier levels. Optional service contract extensions are available over the initial one year comprehensive warranty, onsite support and preventative maintenance. Site preparation is typically a requirement left to the customer, although Datapod can provide these value-added services if required, including security options such as fencing and CCTV solutions.
The Datapod System is built to the highest Enterprise-grade standards has an expected lifespan of >25 years, however, through normal wear it should be noted that the power and cooling components may need to be changed or upgraded mid-life to maintain the optimum performance of the system.
The internal data center architecture, including UPS, cooling, racks and power distribution, and all functional sub-assemblies for inside the data center mirror the Datapod approach for the outer structure itself, and the two systems are optimally combined to deliver the world's best modular data center.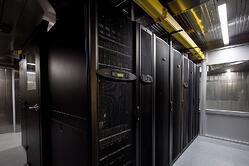 A standard Datapod modular data center system incorporates the following items – with quantities of each item varying on the size and tier level of each data center requirement:
A data hall constructed in dual-llayer insulated steel, rated to IP65, and incorporating faraday cage insulative properties
Modular UPS chassis configured to meet 'day 1' requirements with expansion capacity for future growth.
Battery capacity to provide a minimum of10 minutes runtime at full load
A Connection Node, featuring single or dual Mains Distribution Boards with Power Quality Metering, Client Sub-distribution Board, Generator Input board with Automatic Transfer Switch.
300mm DX or CW Inrow Cooling Units (offering N+1 redundancy per row)
600mm or 750mm wide Equipment Racks each with dual 16A or 32A single phase Metered PDU's
One or more 750mm wide Comms Racks
Hot-Aisle-Containment kit with sliding door at both ends
VESDA system and sampling pipes, and Fire Indicator Panel within data hall
Integrated Management and Control System (IMCS) covering all physical infrastructure
Access control/security system on external and internal doors
Full preparation, installation and commissioning
One-year fully comprehensive support and maintenance including Preventative Maintenance Visits, Onsite Support and Remote Monitoring via the Datapod NOC.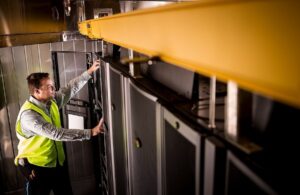 So what is the purpose of each Datapod?
The Starterpod

The Starterpod is the initial pod deployed for all Datapod systems. It incorporates the electrical, mechanical and datacomms connection points for the entire data hall.
Starterpods differ based on their design density, type of cooling, and redundancy level.
Expanderpods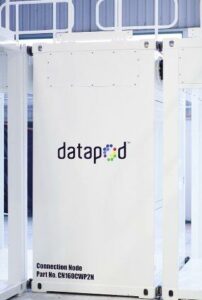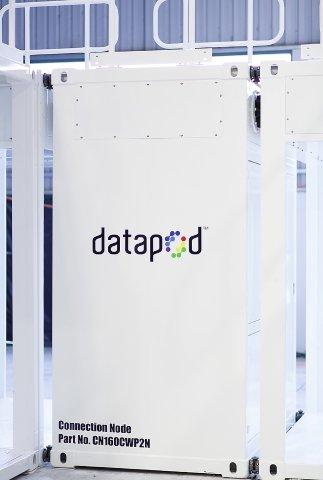 The Expanderpod modules connect to the Starterpod to create a contiguous space and are fitted with up to six additional rack positions, as well as additional Inrow Cooling Units and/or Modular Power Distribution units.
Any number of Expanderpods can connect to form a data-hall of any required size.
Connection Node
The Connection Node is a services aggregation point and is the only piece of equipment in the system that can be considered as 'fixed infrastructure' during operation. As the point that combines all supply inputs such as power, water, data, as well as housing 2ndary pumps (where required/CW version), ATS and distribution board(s) with power quality metering.
Endmount Assembly

The Endmount Assembly is a 1⁄4 length ISO module that contains all external physical infrastructure. Endmount Assemblies will typically house the Fire Suppression systems (cylinders) and Entrypod house air-conditioning condenser, as well as a set of stairs leading to the roof area above the datahall for servicing of the roof-mounted condensers if required.
Endpod (Optional)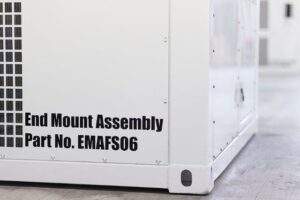 The Endpod module completes the system by providing a second sliding door to the Hot Aisle Containment zone.
Usually incorporating only four racks and two Inrow cooling units, the Endpod provides space for staff to move around the front and rear of the IT racks.
Entrypod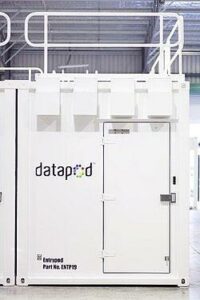 The Entrypod is provided as either a single, or multiple modules to provide clients with a control room environment.
Standard fit-out can accommodate a quantity of workstations with desk, chairs and power/network connectivity. The Entrypod incorporates a 15m2 workspace fitted out with a full height glass viewing wall separates the Entrypod from the data halls.
The system can include the following key sub-systems:
• Entrypod Positive Pressurisation System
• Entrypod Full Height Glass Partition
• Cardax Access Control System to Data Hall
• Entrypod Comfort Air conditioning Package
• Entrypod non-UPS backed electrical panel board
• Cable ducting system including desk height GPO's and data connection points
If you are considering any kind of data center deployment speak to one of our experienced representatives. Link to contact page