There is no doubt boardrooms around the world are looking to their executive staff to use IT to deliver better outcomes at a more competitive price. This is why infrastructure as a service (IaaS) solution is an attractive answer to the data center challenge.
But when outsourcing to an IaaS provider is not an option where does this leave the decision making for Data Center Managers and CIO'S?
In this blog post we look at some of the reasons why organisations are reluctant to move to the cloud and the role modular data centers play when the cloud is not a preferred option.
Recent research by IDG Enterprise showed there are five main reasons organisations are reluctant or cannot move to IaaS or cloud services, these included:
Losing control of infrastructure and hoping the 3rd party provider has the same priorities as your organisation in times of emergency, 
 
Security breaches; although economies of scale provide the capacity to deliver better security through the cloud, some commentators like David Linthicum from eBizq suggest the cloud is largely untested and requires specialised expertise,
 
Data protection and compliance, for example, the UK's Data Protection Act requires that personal data not to be transferred to any country outside the EU,
 
Performance and uptime, a recent survey by Research in Action found that 43.5% of global IT managers were worried about losing revenue because of cloud service problems, while nearly 80% were worried about hidden costs such as damage to their brand due to downtime and poor performance, 
 
Being locked in to one provider should performance, security and uptime become issues.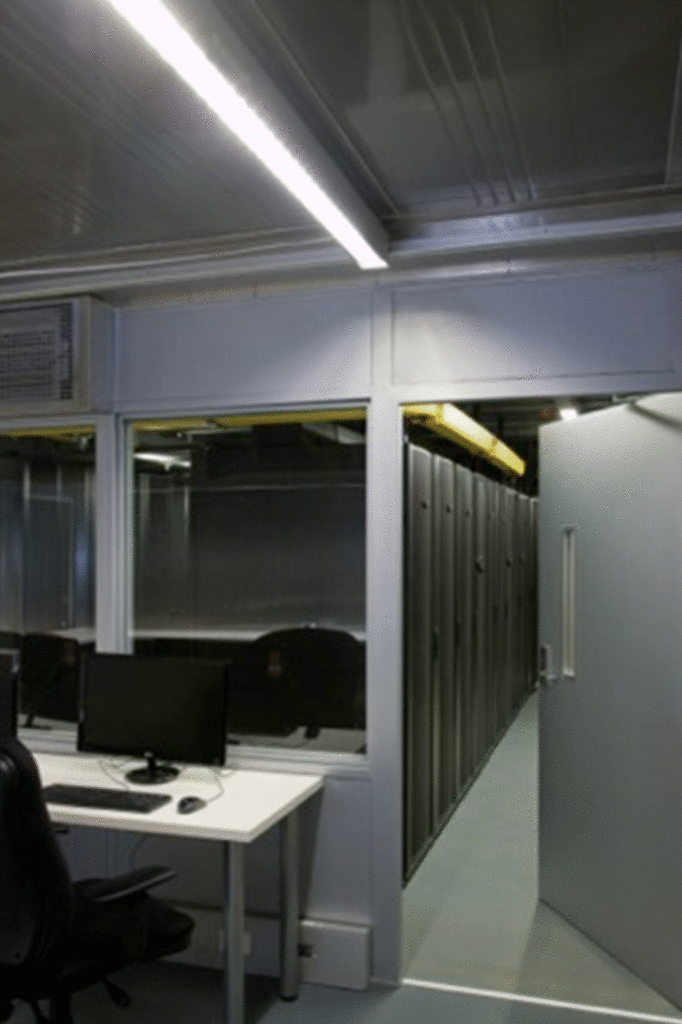 In some cases these reasons for not moving to the cloud can prove a hurdle to high and this is where the modular data center (MDC) system becomes a reliable alternative.
MDC's can be used to create data center infrastructure that can be the foundation to a secure network or private cloud data infrastructure solution.
National institutions, finance corporations, health funds, defense and other organisations responsible for the private data of millions of customers have the added social expectation that they keep this data safe and secure particularly in light of the recent NSA leaks scandal as well as the ongoing breach scandals like those recently experienced by Adobe and Sony Playstation.
So where does this leave organisations who want to deliver better service by improving their data center infrastructure. In most case there are two remaining options:
Custom designed 'bricks and mortar'
Modular Data Center
A modular data center cost comparison with a traditional bricks and mortar data center was the focus of a blog post last year by Datapod Director Adam Smith. In his post he showed when compared to a bricks and mortar data center the Datapod modular data center solution was approximately 28% lower in cost.
In subsequent industry news the lower costs and other benefits have been reflected by
DCD Intelligence which found modular deployments by other providers cost up to 14 per cent lower than traditional data center builds and FedTechMagazine.com stated agencies find that prefabricated IT infrastructure can be delivered more quickly (as little as 12 weeks in some cases) and at lower cost.
These positive cost comparisons complement the increasing data suggesting the MDC approach is the death knell for traditional approaches to data center infrastructure and as recently as this month, with a global data center provider acquiring a Spanish based modular data center company in a bid to capitalize on the rapidly growing market.
With this recent acquisition and the prediction by Markets and Markets suggesting the modular data center market will reach $40.41 billion by 2018 at a CAGR of 37.41 per cent from 2013 to 2018 it is fair to say the market could see further consolidation in the months ahead and is further evidence the MDC solution has fully matured and is widely accepted as the way forward.
So what makes the Datapod a leading modular data center solution?
For more information on the modular Datapod data center system download the Datapod White Paper.
This document provides a detailed insight into the Datapod System including suggested floor plans, the patented design, CAPEX and OPEX cost savings analysis, component specifications, industry applications and case studies.
Customers can also use the industry first Datapod App to design their next data center and download a data center proposal.