Modular data center solutions are transforming the data center market and Datapod is at the global forefront of innovation and design.
While containerized and mobile data centers can be deployed quickly, the similarities to a true modular data center system end there.
The construction, design, scalability and integration options of modular data center not only far exceed the containerized offering but the efficiencies of the modular system provide organisations with leading Data Center 2.0 technology and a product that enables right-sizing and massive CAPEX and OPEX savings.
When Datapod first looked at the idea of creating a modular solution, the options were to construct a module, or use something already in existence. We opted not to re-invent the wheel, but to enhance it.
The 'wheel' was not a shipping container, it was the form-factor of the shipping container.
This is an important point – where others have built a shipping container into a data center, at Datapod we build the data center out of the form factor of an ISO standard module.
We recognized that this module was the perfect building block upon which to develop an expandable architecture. We could build any feature we like into the dimensions, such as security and insulation.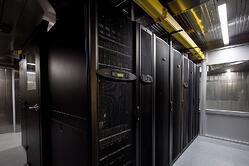 The modular Datapod System is also inherently secure, and security and monitoring can include: 
Provides the perfect faraday cage – signals and data shall remain secure even against EMP and evesdropping,
Physical security properties of steel safe – upgradable to military specifications
Internal and external cameras,
Enhanced door and lock (Bilock) options,
Prox-card and magnetic lock options,
Perimeter fence or wall (site specific, on request).
This environment provides the highest levels of security and protection while the rugged cyclone proof exterior means the modular data center is at home in extreme remote defence deployments (with a camouflage exterior), part of a telecommunications hub network, or as a colocation data hall in an urban or university environment.
Secondly, modular building block design also has significant advantages when factoring in redundancy and extra capacity which in turn provides our customers with better budgetary outcomes.
Containerized data centres are not integrated and are not tier certifiable, whereas the modular Datapod data center can build in any number of extra redundancy combinations. The Datapod modular data center system provides a modern, high-quality modular data center solution.
Right from the moment customers design and download a data center proposal using the Datapod App for iPad, customers are on the path to creating an enterprise-grade data center solution that is deployable in just 12-16 weeks.
Furthermore cost savings are made through the standardization of components and construction as well as energy savings through efficient design. For example most containers are full of IT equipment and rely on additional infrastructure to operate.
Alternatively, modular data centers used advanced cooling technology, implementing evaporative cooling and making use of outside air efficiently. Highly energy efficient with the ability to match cooling to actual IT demand, modular data centers can also optimize data center utilization from 25 percent up to 90 percent.
Better still, modular data centers like the Datapod System are all Factory Acceptance Tested (FAT) before deployment. FAT has significant derisking benefits and means customers receive a data center that is fully operational and ready to hit the ground running once deployed.
And finally, inside a Datapod modular data center staff have room to move around with four-foot wide cold aisles and three-foot wide hot aisles that enable staff to work comfortably and provides ample space to move rack mounted gear.
Modular data centers are engineered to support mainframes, storage arrays and IT racks from most manufacturers – being vender neutral provides customers with the ultimate in flexibility for both new and legacy systems.
Modular data center solutions require no retro fitting and a physical environment separated from other building or site infrastructure.
Modular data centers such as the Datapod System have a host of other features that provide customers with many benefits.